Download PDF Student's Book | Workbook | Teacher's Book Audio (SB,WB) | Answer Keys | Video | Scripts, Exam Task corrlation, CRFR correlation, ExamView Assessment, Progess Tests, End-of-Unit Tests, Extra Tasks Worksheets, Extra Grammar and Vocabulary Activities, Term and End-of-Year Tests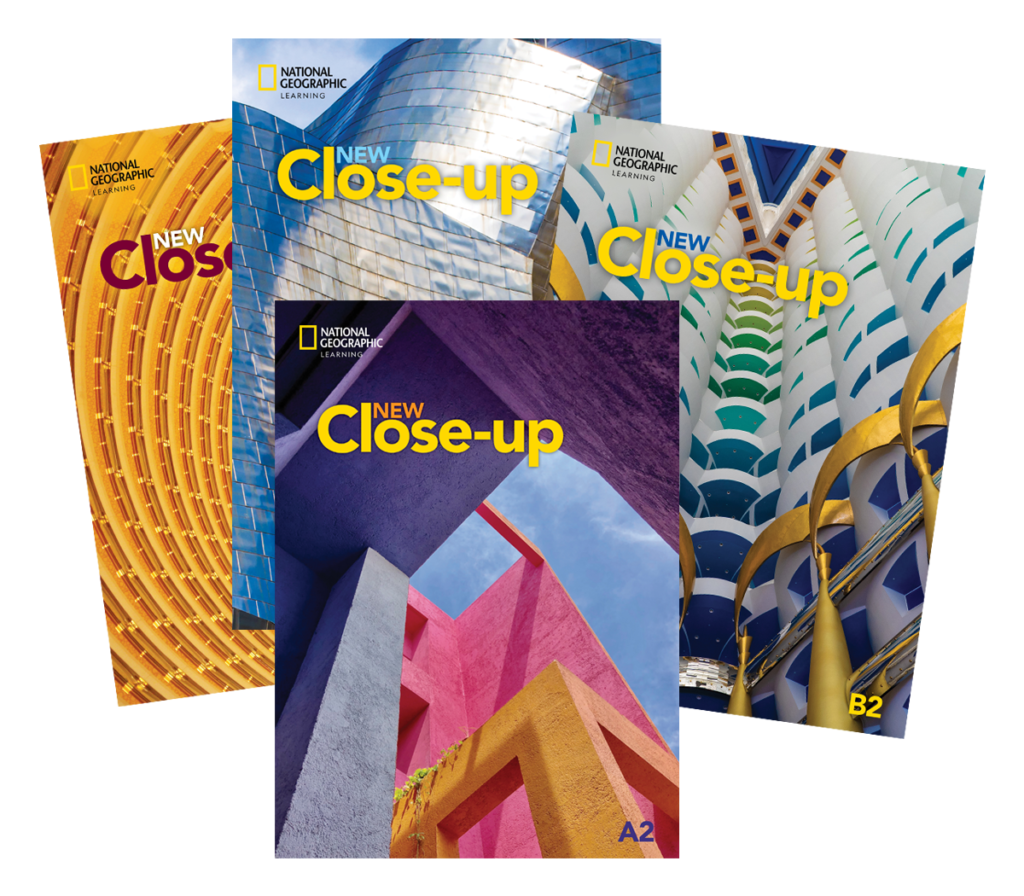 New Close-up helps learners get closer to the world through dynamic photography, video and real-world stories from National Geographic. Relevant, global topics, paired with a comprehensive four-skills syllabus, promote the key language and life skills teenagers need to succeed in international exams, in the classroom and in their future careers.
Waiting for PayPal...
Validating payment information...
Waiting for PayPal...

Image
Name
Summary
Notes
Price
Buy

New Close-up Level A2 - PDF, Resources

Student's Book | Workbook | Teacher's Book.
Audio (SB,WB) | Answer Keys | Video | Scripts, Exam Task corrlation, CRFR correlation, ExamView Assessment, Progess Tests, End-of-Unit Tests, Extra Tasks Worksheets, Extra Grammar and Vocabulary Activities, Term and End-of-Year Tests


Sample

New Close-up Level B1 - PDF, Resources

Student's Book | Workbook | Teacher's Book.
Audio (SB,WB) | Answer Keys | Video | Scripts, Exam Task corrlation, CRFR correlation, ExamView Assessment, Progess Tests, End-of-Unit Tests, Extra Tasks Worksheets, Extra Grammar and Vocabulary Activities, Term and End-of-Year Tests


New Close-up Level B1+ - PDF, Resources

Student's Book | Workbook | Teacher's Book.
Audio (SB,WB) | Answer Keys | Video | Scripts, Exam Task corrlation, CRFR correlation, ExamView Assessment, Progess Tests, End-of-Unit Tests, Extra Tasks Worksheets, Extra Grammar and Vocabulary Activities, Term and End-of-Year Tests


New Close-up Level B2 - PDF, Resources

Student's Book | Workbook | Teacher's Book.
Audio (SB,WB) | Answer Keys | Video | Scripts, Exam Task corrlation, CRFR correlation, ExamView Assessment, Progess Tests, End-of-Unit Tests, Extra Tasks Worksheets, Extra Grammar and Vocabulary Activities, Term and End-of-Year Tests


New Close-up Level B2+ - PDF, Resources

Split A (Student's Book +Workbook) | Split B (Student's Book +Workbook) | Teacher's Book.
Audio (SB,WB) | Answer Keys | Video | Scripts, Exam Task corrlation, CRFR correlation, ExamView Assessment, Progess Tests, End-of-Unit Tests, Extra Tasks Worksheets, Extra Grammar and Vocabulary Activities, Term and End-of-Year Tests