Download Close Up, 1st & 2nd edition by National Geographic (PDF, MP3, DVD-Video) 2013-2016.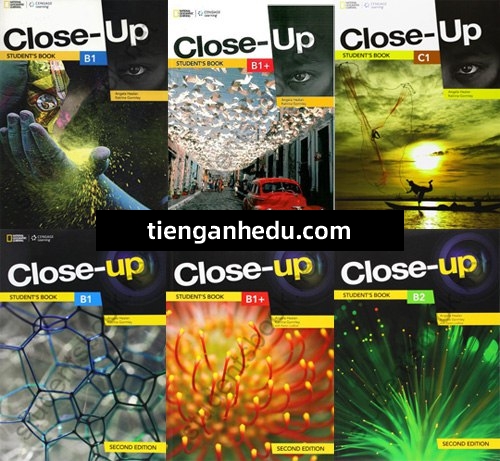 Welcome to Close Up, an exciting new six-level adult series that turns learning English into an exploration of the world we live in. Drawing on National Geographic content, Close Up transforms the learning experience into a fabulous journey with irresistible images, articles and videos that engage students like no series before. Bring Close Up into your classroom!
Comprehensive grammar, vocabulary, functions, pronunciation and skills syllabuses address the needs of contemporary students, and then Close Up goes one step further to enrich communication and critical thinking.
Grammar is presented in context with full explanations and extensive additional support.
Vocabulary is introduced thematically with further focus at lexical and morphological levels in Word focus and Word building sections.
Real Close Up lessons model and practice everyday functions and pronunciation is dealt with in depth.
Every lesson ends with a productive outcome, such as speaking or writing.
With a new component array and strong digital support, the new edition of Close-up has been fully updated to be in line with the new First for Schools 2015 specifications. Close-up is still as interesting, topical and up-to-date as ever with spectacular National Geographic photography and facts that have been carefully selected to appeal to the inquisitive minds of young teenagers.
What's new with Close-up Second Edition?
The integrated 'Exam Close-up' feature gives students and teachers step-by-step advice and strategies for how best to approach exam tasks so students have an opportunity to put the advice into practice on the page.
A new 'Learning Focus' feature introduces 'learning to learn' tips so students can see what they need to do themselves outside of the classroom to progress.
Students' abilities to think, form, express and justify personal opinions are developed further in the 'Ideas Focus' sections – a core skill for success at First.
Student's Book:
Exam tasks have been updated to align with the new First for Schools 2015 specifications.
Step-by-step grammar presentations make the teaching of grammar clearer and more straightforward.
New 'Use your English' sections in each unit provide practice of grammar and vocabulary A 'Grammar Focus' section at the end allows students to check their learning.
Workbook:
A wide variety of tasks that consolidate the vocabulary and grammar presented in the Student's Book.
Exam style tasks in each section with Exam Reminders to help students tackle them.
Further reading practice in each unit.
A listening exercise in every unit.
Writing sections.
Regular reviews to check understanding.
Student Ebook The Student's Book in an interactive Ebook format delivered on a disc.
MyELT Online Resources:
Additional online workbook activities powered by MyELT.
Online workbook activities include English in Use that provides further practice of the grammar and vocabulary.
Teacher's Book:
Includes unit and lesson plans.
Contains key and audio script for the Student's Book and Workbook.
Interactive Whiteboard:
Play the audio material included on the online student zone.
Enjoy the National Geographic videos found on the online student zone with or without subtitles.
Show or hide the key to the student's book and workbook tasks.
Show the justification for the key to reading comprehension and listening tasks at the click of a button.
Create your own interactive tasks with the easy-to-use Content Creation Tool.
No Ads, 1 Links, No Waiting For Time