Download Life (British English) 2nd Edition – National Geographic Learning (PDF, Audio CD, Video,…) – 2019.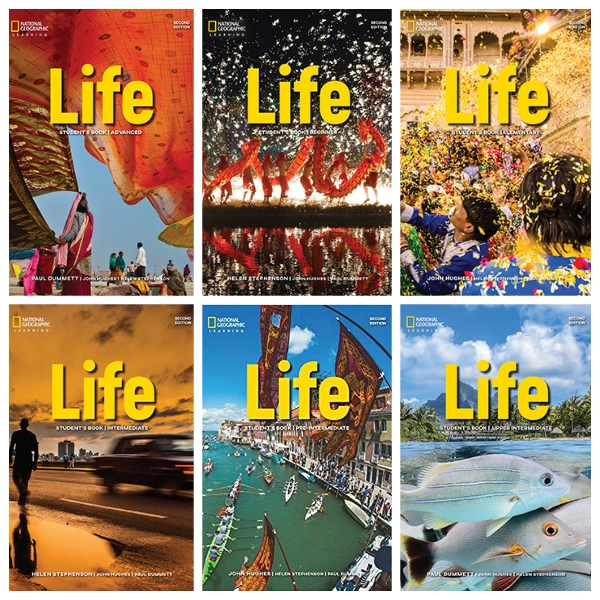 National Geographic Learning brings the world to your classroom with Life, a six level integrated skills series that develops fluency in both British and American English.
To encourage a generation of informed decision makers, Life prepares learners to think critically while teaching the English skills needed communicate effectively through:
* Information rich topics that naturally promote curiosity and challenge learners to understand the themes in English on a deeper level
* Developing the 21st century skills needed in a technology rich environment, like questioning authors' intention and using visually literacy skills to infer meaning
* Explicit 'Critical Thinking' sections that take language learners from understanding, to evaluating, and finally to creating their own texts in English.
True PDF
DEMO (Sample Page)
Life 2e Beginner. Student's Book.pdf
Life 2e Beginner. Workbook.pdf
Life 2e Beginner. Teacher's Book.pdf
Life 2e Beginner Teacher's Resources (Audio, Video, Academic Skills, ExamView, Worksheets, Reading Texts, Keys, Scripts, Wordlist, Communicative Activities,…)
—-
Life 2e Elementary. Students Book.pdf
Life 2e Elementary. Workbook.pdf
Life 2e Elementary. Teachers Book.pdf
Life 2e Elementary Teacher's Resources (Audio, Video, Academic Skills, ExamView, Worksheets, Reading Texts, Keys, Scripts, Wordlist, Communicative Activities,…)
—-
Life 2e Intermediate. Student's Book.pdf
Life 2e Intermediate. Workbook.pdf
Life 2e Intermediate. Teacher's Book.pdf
Life 2e Intermediate Teacher's Resources (Audio, Video, Academic Skills, ExamView, Worksheets, Reading Texts, Keys, Scripts, Wordlist, Communicative Activities,…)
—-
Life 2e Pre-Intermediate. Student's Book.pdf
Life 2e Pre-Intermediate. Workbook.pdf
Life 2e Pre-Intermediate. Teacher's Book.pdf
Life 2e Pre-Intermediate Teacher's Resources (Audio, Video, Academic Skills, ExamView, Worksheets, Reading Texts, Keys, Scripts, Wordlist, Communicative Activities,…)
—-
Life 2e Upper-Intermediate. Student's Book.pdf
Life 2e Upper-Intermediate. Workbook.pdf
Life 2e Upper-Intermediate. Teacher's Book.pdf
Life 2e Upper-Intermediate Teacher's Resources (Audio, Video, Academic Skills, ExamView, Worksheets, Reading Texts, Keys, Scripts, Wordlist, Communicative Activities,…)
—-
Life 2e Advanced. Student's book.pdf
Life 2e Advanced. Workbook.pdf
Life 2e Advanced. Teacher's book.pdf
Life 2e Advanced Teacher's Resources (Audio, Video, Academic Skills, ExamView, Worksheets, Reading Texts, Keys, Scripts, Wordlist, Communicative Activities,…)
——————————————–
Life (BRE) 2e Advanced_ v2_Classroom Presentation Tool (Windows,Mac)
Life (BRE) 2e Beginner_ v2_Classroom Presentation Tool (Windows,Mac)
Life (BRE) 2e Elementary_ v2_Classroom Presentation Tool (Windows,Mac)
Life (BRE) 2e Intermediate_ v2_Classroom Presentation Tool (Windows,Mac)
Life (BRE) 2e Pre_Intermediate_ v2_Classroom Presentation Tool (Windows,Mac)
Life (BRE) 2e Upper-Intermediate_ v2_Classroom Presentation Tool (Windows,Mac)