Download Our World (BRE) Second Edition – Original PDF, Audio, Video, Tests, Resources,….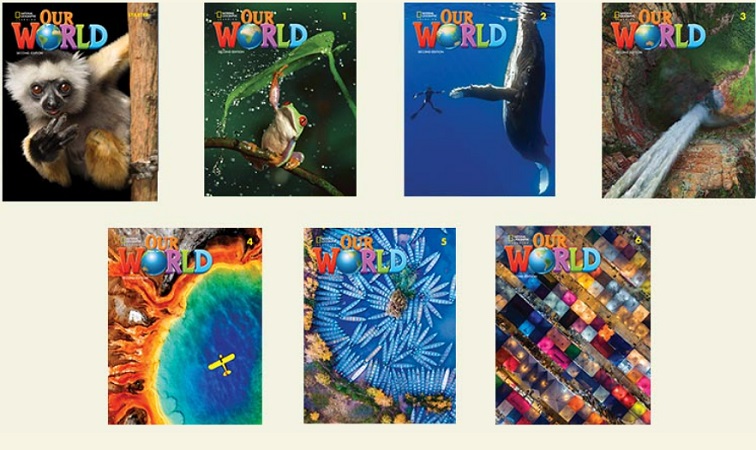 Achieve more with Our World, Second Edition, a best-selling seven-level series for young learners of English.
Experience more of the real world with content that motivates learners to use English, including surprising photography, meaningful stories and readings, immersive video, and incredible National Geographic Explorers.
Learn more about the world through cross-curricular topics that challenge learners and deepen their understanding of the world in English.
Help learners achieve more through collaborative projects, extensive critical thinking and visual literacy work, and activities that inspire meaningful thinking and sharing.
Waiting for PayPal...
Validating payment information...
Waiting for PayPal...


Our World (BRE) Second Edition – PDF, Resources
Our World (BRE) 2nd edition Starter – Student's Book.pdf
Our World (BRE) 2nd edition Starter – Workbook.pdf
Our World (BRE) 2nd edition Starter – Lesson Planner.pdf
Our World (BRE) 2nd edition Starter – Audio + Audioscripts
Our World (BRE) 2nd edition Starter – Answer Keys
Our World (BRE) 2nd edition Starter – Assessment
Our World (BRE) 2nd edition Starter– Cutouts and Stickers
Our World (BRE) 2nd edition Starter – Flashcards
Our World (BRE) 2nd edition Starter – Graphic Organisers
Our World (BRE) 2nd edition Starter – Home-School Connection Letters
Our World (BRE) 2nd edition Starter – Mini Flashcards
Our World (BRE) 2nd edition Starter – Pacing Guides
Our World (BRE) 2nd edition Starter – Resources for Split Editions
Our World (BRE) 2nd edition Starter – Teacher Language Bank
Our World (BRE) 2nd edition Starter – Video
Our World (BRE) 2nd edition Starter – Worksheets
Our World (BRE) 2nd edition 1 – Student's Book.pdf
Our World (BRE) 2nd edition 1 – Workbook.pdf
Our World (BRE) 2nd edition 1 – Grammar Workbook.pdf
Our World (BRE) 2nd edition 1 – Lesson Planner.pdf
Our World (BRE) 2nd edition 1 – Audio + Audioscripts
Our World (BRE) 2nd edition 1 – Answer Keys
Our World (BRE) 2nd edition 1 – Assessment
Our World (BRE) 2nd edition 1 – Cutouts and Stickers
Our World (BRE) 2nd edition 1 – Flashcards
Our World (BRE) 2nd edition 1 – Graphic Organisers
Our World (BRE) 2nd edition 1 – Home-School Connection Letters
Our World (BRE) 2nd edition 1 – Mini Flashcards
Our World (BRE) 2nd edition 1 – Pacing Guides
Our World (BRE) 2nd edition 1 – Resources for Split Editions
Our World (BRE) 2nd edition 1 – Teacher Language Bank
Our World (BRE) 2nd edition 1 – Video
Our World (BRE) 2nd edition 1 – Worksheets
Our World (BRE) 2nd edition 1 – The Sounds of English
Our World (BRE) 2nd edition 1 – Wordlists
Our World (BRE) 2nd edition 2 – Student's Book.pdf
Our World (BRE) 2nd edition 2 – Workbook.pdf
Our World (BRE) 2nd edition 2 – Grammar Workbook.pdf
Our World (BRE) 2nd edition 2 – Lesson Planner.pdf
Our World (BRE) 2nd edition 2 – Audio + Audioscripts
Our World (BRE) 2nd edition 2 – Answer Keys
Our World (BRE) 2nd edition 2 – Assessment
Our World (BRE) 2nd edition 2 – Cutouts and Stickers
Our World (BRE) 2nd edition 2 – Flashcards
Our World (BRE) 2nd edition 2 – Graphic Organisers
Our World (BRE) 2nd edition 2 – Home-School Connection Letters
Our World (BRE) 2nd edition 2 – Mini Flashcards
Our World (BRE) 2nd edition 2 – Pacing Guides
Our World (BRE) 2nd edition 2 – Resources for Split Editions
Our World (BRE) 2nd edition 2 – Teacher Language Bank
Our World (BRE) 2nd edition 2 – Video
Our World (BRE) 2nd edition 2 – Worksheets
Our World (BRE) 2nd edition 2 – The Sounds of English
Our World (BRE) 2nd edition 2 – Wordlists
Our World (BRE) 2nd edition 3 – Student's Book.pdf
Our World (BRE) 2nd edition 3 – Workbook.pdf
Our World (BRE) 2nd edition 3 – Grammar Workbook.pdf
Our World (BRE) 2nd edition 3 – Lesson Planner.pdf
Our World (BRE) 2nd edition 3 – Audio + Audioscripts
Our World (BRE) 2nd edition 3 – Answer Keys
Our World (BRE) 2nd edition 3 – Assessment
Our World (BRE) 2nd edition 3 – Cutouts and Stickers
Our World (BRE) 2nd edition 3 – Flashcards
Our World (BRE) 2nd edition 3 – Graphic Organisers
Our World (BRE) 2nd edition 3 – Home-School Connection Letters
Our World (BRE) 2nd edition 3 – Mini Flashcards
Our World (BRE) 2nd edition 3 – Pacing Guides
Our World (BRE) 2nd edition 3 – Resources for Split Editions
Our World (BRE) 2nd edition 3 – Teacher Language Bank
Our World (BRE) 2nd edition 3 – Video
Our World (BRE) 2nd edition 3 – Worksheets
Our World (BRE) 2nd edition 3 – The Sounds of English
Our World (BRE) 2nd edition 3 – Wordlists
Our World (BRE) 2nd edition 4 – Student's Book.pdf
Our World (BRE) 2nd edition 4 – Workbook.pdf
Our World (BRE) 2nd edition 4 – Grammar Workbook.pdf
Our World (BRE) 2nd edition 4 – Lesson Planner.pdf
Our World (BRE) 2nd edition 4 – Audio + Audioscripts
Our World (BRE) 2nd edition 4 – Answer Keys
Our World (BRE) 2nd edition 4 – Assessment
Our World (BRE) 2nd edition 4 – Cutouts and Stickers
Our World (BRE) 2nd edition 4 – Flashcards
Our World (BRE) 2nd edition 4 – Graphic Organisers
Our World (BRE) 2nd edition 4 – Home-School Connection Letters
Our World (BRE) 2nd edition 4 – Mini Flashcards
Our World (BRE) 2nd edition 4 – Pacing Guides
Our World (BRE) 2nd edition 4 – Resources for Split Editions
Our World (BRE) 2nd edition 4 – Teacher Language Bank
Our World (BRE) 2nd edition 4 – Video
Our World (BRE) 2nd edition 4 – Worksheets
Our World (BRE) 2nd edition 4 – The Sounds of English
Our World (BRE) 2nd edition 4 – Wordlists
Our World (BRE) 2nd edition 5 – Student's Book.pdf
Our World (BRE) 2nd edition 5 – Workbook.pdf
Our World (BRE) 2nd edition 5 – Grammar Workbook.pdf
Our World (BRE) 2nd edition 5 – Lesson Planner.pdf
Our World (BRE) 2nd edition 5 – Audio + Audioscripts
Our World (BRE) 2nd edition 5 – Answer Keys
Our World (BRE) 2nd edition 5 – Assessment
Our World (BRE) 2nd edition 5 – Cutouts and Stickers
Our World (BRE) 2nd edition 5 – Flashcards
Our World (BRE) 2nd edition 5 – Graphic Organisers
Our World (BRE) 2nd edition 5 – Home-School Connection Letters
Our World (BRE) 2nd edition 5 – Mini Flashcards
Our World (BRE) 2nd edition 5 – Pacing Guides
Our World (BRE) 2nd edition 5 – Resources for Split Editions
Our World (BRE) 2nd edition 5 – Teacher Language Bank
Our World (BRE) 2nd edition 5 – Video
Our World (BRE) 2nd edition 5 – Worksheets
Our World (BRE) 2nd edition 5 – The Sounds of English
Our World (BRE) 2nd edition 5 – Wordlists
Our World (BRE) 2nd edition 6 – Student's Book.pdf
Our World (BRE) 2nd edition 6 – Workbook.pdf
Our World (BRE) 2nd edition 6 – Grammar Workbook.pdf
Our World (BRE) 2nd edition 6 – Lesson Planner.pdf
Our World (BRE) 2nd edition 6 – Audio + Audioscripts
Our World (BRE) 2nd edition 6 – Answer Keys
Our World (BRE) 2nd edition 6 – Assessment
Our World (BRE) 2nd edition 6 – Cutouts and Stickers
Our World (BRE) 2nd edition 6 – Flashcards
Our World (BRE) 2nd edition 6 – Graphic Organisers
Our World (BRE) 2nd edition 6 – Home-School Connection Letters
Our World (BRE) 2nd edition 6 – Mini Flashcards
Our World (BRE) 2nd edition 6 – Pacing Guides
Our World (BRE) 2nd edition 6 – Resources for Split Editions
Our World (BRE) 2nd edition 6 – Teacher Language Bank
Our World (BRE) 2nd edition 6 – Video
Our World (BRE) 2nd edition 6 – Worksheets
Our World (BRE) 2nd edition 6 – The Sounds of English
Our World (BRE) 2nd edition 6 – Wordlists