Download Roadmap by Longman Pearson General English Course for Adults. Author: Monica Berlis, Jonathan Bygrave, Hugh Dellar, Heather Jones, Andrew Walkley, Lindsay Warwick, Damian Williams (2019-2021). File (PDF, MP3, DOC, AVI…).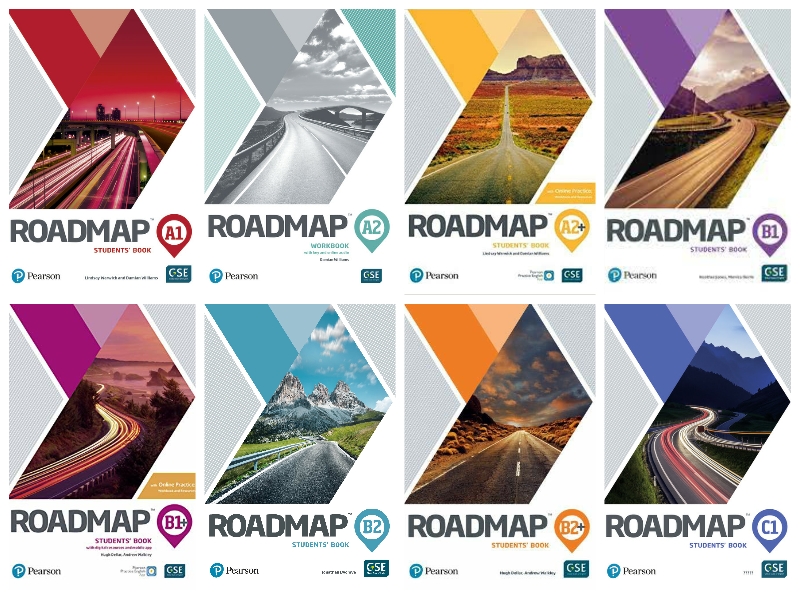 Roadmap is a new, eight-level general English course for adults that recognises every class is different, every learner is unique.
Roadmap's rich content and flexible organisation allows teachers to personalise their lessons to give learners the specific language training they need to progress. Map your own route through the course.
Personalise your teaching for every learner. Focus on key language and speaking skills or provide additional training in reading, writing and listening with the dual track structure. This unique approach also allows you to adapt material to suit different course lengths.
Each of the ten units includes three core lessons featuring grammar, vocabulary and pronunciation that lead to a final speaking activity.
Each of the ten units includes additional skills-based lessons on reading, writing and listening that are linked to the content of each lesson.
Provide easy-to-teach lessons, supported with clear instructions on exploiting each lesson and tricky language points, and ideas for extension and homework activities. A huge range of additional materials, including video, photocopiable games and activities, online and mobile practice activities, can all add spice to your lessons.
Help students understand what they are learning and why with the GSE learning objectives to build their confidence and increase their motivation. No other course is so focused on helping learners achieve the goals for each lesson and help show their learners tangible progress.
Each lesson has a clear learning goal and every activity in a lesson is focused on achieving that objective, using carefully structured tasks, language input, plenty of practice, strategies for skills development and a reflection on performance.
The goals are designed to help learners achieve an outcome that they have to do in real life. They allow learners to develop a range of speaking skills, while the grammar and vocabulary input are designed to help learners achieve that speaking goal.
Image
Name
Summary
Notes
Price
Buy

Roadmap A1 - PDF, Resources

Student's Book | Workbook | Teacher's Book
Studentss Book Audio | Workbook Audio | Studentss Book Materials | Teacher's materials | Tests | Video | Photocopiables | Pronunciation | Acknowledgements | Mapping Booklet | Teaching with Roadmap videos | Phonetic Chart

Sample

$

6.00

Roadmap A2 - PDF, Resources

Student's Book | Workbook | Teacher's Book
Studentss Book Audio | Workbook Audio | Studentss Book Materials | Teacher's materials | Tests | Video | Photocopiables | Pronunciation | Acknowledgements | Mapping Booklet | Teaching with Roadmap videos


$

6.00

Roadmap A2+ - PDF, Resources

Student's Book | Workbook | Teacher's Book
Studentss Book Audio | Workbook Audio | Studentss Book Materials | Teacher's materials | Tests | Video | Photocopiables | Pronunciation | Acknowledgements | Mapping Booklet | Teaching with Roadmap videos | Phonetic Chart

$

6.00

Roadmap B1 - PDF, Resources

Student's Book | Workbook | Teacher's Book
Studentss Book Audio | Workbook Audio | Studentss Book Materials | Teacher's materials | Tests | Video | Photocopiables | Pronunciation | Acknowledgements | Mapping Booklet | Teaching with Roadmap videos | Phonetic Chart | Mediation


$

6.00

Roadmap B1+ - PDF, Resources

Student's Book | Workbook | Teacher's Book
Studentss Book Audio | Workbook Audio | Studentss Book Materials | Teacher's materials | Tests | Video | Photocopiables | Pronunciation | Acknowledgements | Mapping Booklet | Teaching with Roadmap videos | Mediation

$

6.00

Roadmap B2 - PDF, Resources

Student's Book | Workbook | Teacher's Book
Studentss Book Audio | Workbook Audio | Studentss Book Materials | Teacher's materials | Tests | Video | Photocopiables | Pronunciation | Acknowledgements | Mapping Booklet | Teaching with Roadmap videos | Mediation

$

6.00

Roadmap B2+ - PDF, Resources

Student's Book | Workbook | Teacher's Book
Studentss Book Audio | Workbook Audio | Studentss Book Materials | Teacher's materials | Tests | Video | Photocopiables | Pronunciation | Acknowledgements | Mapping Booklet | Teaching with Roadmap videos | Phonetic Chart | Mediation

$

6.00

Roadmap C1-C2 - PDF, Resources

Student's Book | Workbook | Teacher's Book
Studentss Book Audio | Workbook Audio | Studentss Book Materials | Teacher's materials | Tests | Video | Photocopiables | Pronunciation | Acknowledgements | Mapping Booklet | Teaching with Roadmap videos | Mediation

$

6.00