Download Science Skills (6 Levels) PDF, Audio, Tests. Cambridge Science Skills is a supplementary skills course for young learners who wish to study science through English.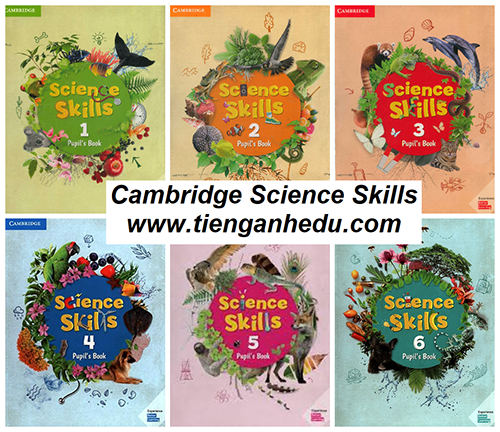 The course takes learners on a journey as they discover the wonders of biology, chemistry and physics. Pupils are gradually introduced to topics so that they can engage with, enjoy and fully assimilate the new concepts.
Science Skills features an enquiry-based approach in which questions are asked leading to a task which the students need to solve by studying the content of the unit. Fun and practical experiments and projects aid pupils' understanding of the main themes and topics; they also encourage collaborative learning.
Engaging characters, fun stories, catchy songs and chants, creative design and vibrant photographs and illustrations ensure the content is as accessible as possible for young learners studying Science in a second language.
A rich array of resources, both print and digital, will help to bring the classroom to life. Science Skills is ideal supplementary material to be used alongside Cambridge ELT textbooks.
Good quality material.
Download the sample to your device to preview.
Demo (Sample Page)
Level 4 (no Activity Book, no Teacher's Book)
Level 6 (no Activity Book, no Teacher's Book)


Science Skills 1 Pupil's Book.pdf
Science Skills 1 Activity Book.pdf
Science Skills 1 Teacher's Book.pdf
Science Skills 1 Audio
Science Skills 1 Tests
Science Skills 1 Arts and Crafts.zip
—-
Science Skills 2 Pupil's Book.pdf
Science Skills 2 Activity Book.pdf
Science Skills 2 Teacher's Book.pdf
Science Skills 2 Audio
Science Skills 2 Tests
Science Skills 2 Arts and Crafts.zip
—-
Science Skills 3 Pupil's Book.pdf
Science Skills 3 Activity Book.pdf
Science Skills 3 Teacher's Book.pdf
Science Skills 3 Audio
Science Skills 3 Tests
Science Skills 3 Arts and Crafts.zip
—-
Science Skills 4 Pupil's Book.pdf
Science Skills 4 Audio
Science Skills 4 Tests
Science Skills 4 Arts and Crafts.zip
—-
Science Skills 5 Pupil's Book.pdf
Science Skills 5 Activity Book.pdf
Science Skills 5 Teacher's Book.pdf
Science Skills 5 Audio
Science Skills 5 Tests
Science Skills 5 Arts and Crafts.zip
—-
Science Skills 6 Pupil's Book.pdf
Science Skills 6 Audio
Science Skills 6 Tests
Science Skills 6 Arts and Crafts.zip