TOEFL iBT Quick Prep (Volume 1, Volume 2, Volume 3, Volume 4). Publisher: Educational Testing Service – 2011 (Book, Audio CD).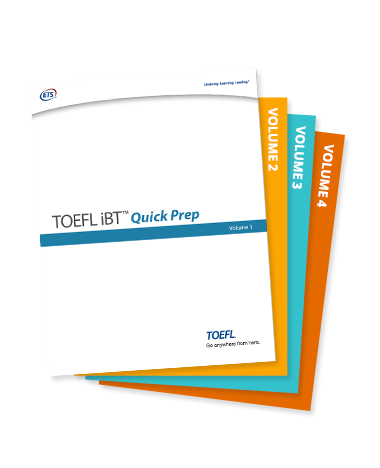 TOEFL iBT Quick Prep can help you prepare for the TOEFL iBT test. All the questions in this Quick Prep book are real TOEFL iBT questions given to examinees at worldwide test administrations, but some questions are presented differently than on the real test.
Quick Prep includes questions from all four sections of the TOEFL iBT test: Reading, Listening, Speaking, and Writing.
In Quick Prep, the Listening, Speaking, and Writing sections include written transcripts of the audio portions of the test. If you have access to people with good English pronunciation, ask them to read the transcripts aloud to you. Listening to the transcripts is better practice than reading them to yourself. If someone reads the transcripts to you, make sure you see the pictures.
As in the real test, you may take notes while you listen, and you may use your notes to help you answer the questions.
No Ads, 1 Links (Drive), No Waiting For Time
Note:
Hidden links need "FAST DOWNLOAD"
Password Extract: tienganhedu.com

Mua Sách Bản Cứng "TOEFL iBT Quick Prep (Volume 1, Volume 2, Volume 3, Volume 4)" tại Việt Nam:
Mua tại FAHASA
Mua tại Shopee
Contact (Report Broken Link) ---- Copyright Owner (DMCA)