Bromberg Murray, Gordon Melvin. 1100 Words You Need to Know, 7th edition. – 2018. – 4634 p (PDF).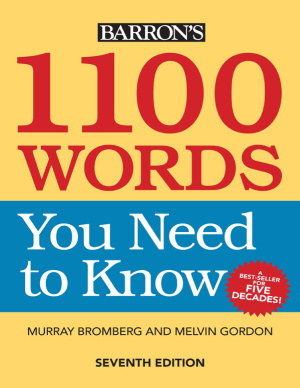 The study of the English language has spread all over the world, and high school and college students everywhere have come to realize that language mastery depends on the possession of a comprehensive vocabulary. This is just what 1100 Words You Need to Know has been offering through the six earlier editions and continuing on this seventh one.
We are proud that Amazon.com has rated this book as a bestseller in its category. In addition to the various exercises that help readers learn challenging vocabulary, take a look at the section called "The Lighter Touch 100," which shows that vocabulary can be taught with a sense of humor. By investing a mere 15 minutes a day with this new book, you will soon see a dramatic improvement in your vocabulary.
Barron's 1100 words you need to know 4th edition
Barron's 1100 Words You Need to Know, 5th edition
Download Now: