Download Gold Experience (2nd Edition) – PDF, Audio, Video, Resources….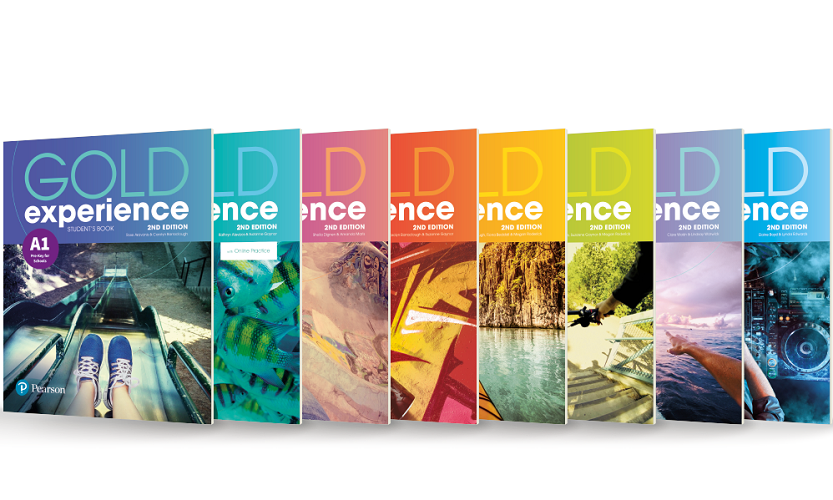 Gold Experience 2nd Edition is a new edition of the fast-paced course that motivates students to build the language and skills they need in the classroom, exams and the world beyond school.
This unique, 8-level exam course for teenagers, takes the learners smoothly from beginner up to advanced level.

Waiting for PayPal...
Validating payment information...
Waiting for PayPal...

Gold Experience (2nd Edition) 8 Levels – PDF, Resources
Gold Experience (2nd Edition) A1 Student's Book.pdf
Gold Experience (2nd Edition) A1 Workbook.pdf
Gold Experience (2nd Edition) A1 Teacher's Book
Gold Experience (2nd Edition) A1 Audio + Audioscript
Gold Experience (2nd Edition) A1 Video
Gold Experience (2nd Edition) A1 Assessment Package
Gold Experience (2nd Edition) A1 Grammar Presentations
Gold Experience (2nd Edition) A1 Answers Key
Gold Experience (2nd Edition) A1 Photocopiables Activities
Gold Experience (2nd Edition) A2 Student's Book.pdf
Gold Experience (2nd Edition) A2 Workbook.pdf
Gold Experience (2nd Edition) A2 Teacher's Book
Gold Experience (2nd Edition) A2 Audio + Audioscript
Gold Experience (2nd Edition) A2 Video
Gold Experience (2nd Edition) A2 Assessment Package
Gold Experience (2nd Edition) A2 Grammar Presentations
Gold Experience (2nd Edition) A2 Answers Key
Gold Experience (2nd Edition) A2 Photocopiables Activities
Gold Experience (2nd Edition) A2+ Student's Book.pdf
Gold Experience (2nd Edition) A2+ Workbook.pdf
Gold Experience (2nd Edition) A2+ Teacher's Book
Gold Experience (2nd Edition) A2+ Audio + Audioscript
Gold Experience (2nd Edition) A2+ Video
Gold Experience (2nd Edition) A2+ Assessment Package
Gold Experience (2nd Edition) A2+ Grammar Presentations
Gold Experience (2nd Edition) A2+ Answers Key
Gold Experience (2nd Edition) A2+ Photocopiables Activities
Gold Experience (2nd Edition) B1 Student's Book.pdf
Gold Experience (2nd Edition) B1 Workbook.pdf
Gold Experience (2nd Edition) B1 Teacher's Book
Gold Experience (2nd Edition) B1 Audio + Audioscript
Gold Experience (2nd Edition) B1 Video
Gold Experience (2nd Edition) B1 Assessment Package
Gold Experience (2nd Edition) B1 Grammar Presentations
Gold Experience (2nd Edition) B1 Answers Key
Gold Experience (2nd Edition) B1 Photocopiables Activities
Gold Experience (2nd Edition) B1+ Student's Book.pdf
Gold Experience (2nd Edition) B1+ Workbook.pdf
Gold Experience (2nd Edition) B1+ Teacher's Book
Gold Experience (2nd Edition) B1+ Audio + Audioscript
Gold Experience (2nd Edition) B1+ Assessment Package
Gold Experience (2nd Edition) B1+ Grammar Presentations
Gold Experience (2nd Edition) B1+ Answers Key
Gold Experience (2nd Edition) B1+ Photocopiables Activities
Gold Experience (2nd Edition) B2 Student's Book.pdf
Gold Experience (2nd Edition) B2 Workbook.pdf
Gold Experience (2nd Edition) B2 Teacher's Book
Gold Experience (2nd Edition) B2 Audio + Audioscript
Gold Experience (2nd Edition) B2 Video
Gold Experience (2nd Edition) B2 Assessment Package
Gold Experience (2nd Edition) B2 Grammar Presentations
Gold Experience (2nd Edition) B2 Answers Key
Gold Experience (2nd Edition) B2 Photocopiables Activities
Gold Experience (2nd Edition) B2+ Student's Book.pdf
Gold Experience (2nd Edition) B2+ Workbook.pdf
Gold Experience (2nd Edition) B2+ Teacher's Book
Gold Experience (2nd Edition) B2+ Audio + Audioscript
Gold Experience (2nd Edition) B2+ Video
Gold Experience (2nd Edition) B2+ Assessment Package
Gold Experience (2nd Edition) B2+ Grammar Presentations
Gold Experience (2nd Edition) B2+ Answers Key
Gold Experience (2nd Edition) B2+ Photocopiables Activities
Gold Experience (2nd Edition) C1 Student's Book.pdf
Gold Experience (2nd Edition) C1 Workbook.pdf
Gold Experience (2nd Edition) C1 Teacher's Book
Gold Experience (2nd Edition) C1 Audio + Audioscript
Gold Experience (2nd Edition) C1 Video
Gold Experience (2nd Edition) C1 Assessment Package
Gold Experience (2nd Edition) C1 Grammar Presentations
Gold Experience (2nd Edition) C1 Answers Key
Gold Experience (2nd Edition) C1 Photocopiables Activities