Download New Headway Fourth Edition ( Beginner, Elementary, Pre-Intermediate, Intermediate, Upper-Intermediate, Advanced). PDF, MP3, CD-EXE (ISO), DVD (iso).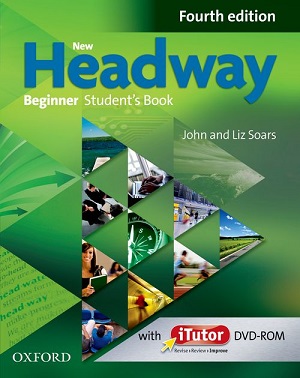 A new digital era for the world's most trusted English course.

The world's most trusted adult English course – a perfectly balanced syllabus and proven methodology, now with a new generation of digital support.

With its proven methodology, Headway is the course you can always trust.
The strong grammar focus, clear vocabulary syllabus and integrated skills work give you lessons that really work in class.
Constant updates mean the material is always current, and with a huge range of components available – including new digital resources for interactive whiteboards – you've always got support where you need it.

With the Fourth edition of the best-selling course book you can now experience the trusted Headway methodology using the latest in classroom technology:

iTools bring the Fourth edition Student's Book and Workbook alive on the classroom wall, complete with interactive exercises, audio, video, and other teaching resources. The built-in tools like zoom, highlight and screen shade give you and your students a truly interactive teaching and learning experience. iTools also includes customizable flipcharts, wordlists and grammar reference to help you make the most of your Headway lessons.

iTutor is the digital companion to the Student's Book that allows students to revise, review and improve their English outside the classroom. To read more about iTutor and how it encourages learner autonomy, see the iTutor tab.

Checker is a new digital resource, available to students with the Workbook. It contains all Workbook audio and practice tests to help students identify areas where they need more study. To learn more, see the iChecker tab.

iTutur
Revise – Review Improve
A new digital companion to the Student's Book that helps your students revise and review classroom material and improve all four skills and practice their grammar and vocabulary in the comfort of their home.
Choose to practice by Skill or by Unit
Interactive reading, listening and writing practice with instant feedback on answers
Grammar Tutor with audio explanations to cater for different learning styles
Printable wordlist for each Unit with audio to help improve pronunciation
Brand new video material with interactive exercises
Selected Student's Book audio with interactive exercises
Printable study record sheets
iChecker
Assess- Progress
A brand new digital companion to the Workbook that helps students assess their knowledge and check their progress.
Listen to all Workbook audio on your computer or MP3 player
Practice your grammar, vocabulary and Everyday English with a multiple choice test at the end of each unit
Develop your writing skills with a text-builder test after the units
Find more practice online with direct links to the Student's website
Test your exam skills on oxfordenglishtesting.com with your built-in free access code to a sample exam
DISCOUNT CODE
(Payment > 2$):
DC2
Note:
Hidden links need "FAST DOWNLOAD"
Password Extract: tienganhedu.com

Mua Sách Bản Cứng "New Headway Fourth Edition" tại Việt Nam:
Mua tại TIKI.vn
Mua tại FAHASA
Mua tại Shopee.vn
Mua tại Lazada.vn
Contact (Report Broken Link) ---- Copyright Owner (DMCA)