Download Cambridge Out and About – English Course for Spanish Speakers 2015. Author: Mark Hancock, Annie McDonald.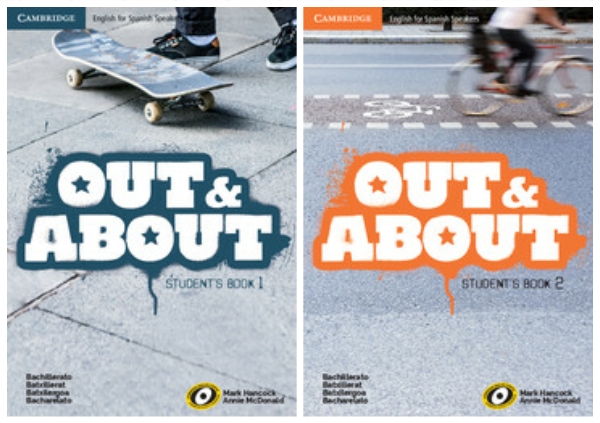 Out and About is a Bachillerato course which prepares students for real life once all the exams are over. The final Bachillerato exam and the University Entrance Exam are the key to success in this stage of students' learning, but education goes beyond the classroom and exams. This is the idea behind Out & About – to create a course which gives solid language development for the exams but also helps to prepare students for real life, for the world in which they will live once all the exams are over. Out & About addresses the growing need for a more balanced approach to the skills, with more opportunities for listening and speaking, within each lesson without forgetting the essential aim of Bachillerato courses. Special 'Life Skills' sections are also included to make the process of language learning relevant to the real world, beyond the need to pass exams.
Key features:
– 'Life Skill' sections help students to develop skills that they will need while both studying and in the future where they will be using English in the real world.
– 'Tip' boxes give the students short learning strategies for all four skills and vocabulary.
– 'Streetwise' highlights more colloquial use of language and will engage your students' interest.
– The 'Common Mistakes at Bachillerato' booklet, packaged with the Student's Book, highlights errors students make and provides additional practice.
– The 'Vox-pop' videos and documentaries on the Teacher's DVD help with speaking and put the language of the unit into a wider real world context. These videos are also available for the students through the Augmented Reality App.
No Ads, 1 Links, No Waiting For Time
Currently the payment gateway is having problems. Please contact us if you need to buy books.

Đối với khách hàng ở Việt Nam: Liên hệ trực tiếp với Admin để thực hiện mua hàng bằng cách chuyển khoản ngân hàng nội địa.
Note:
When using "FAST DOWNLOAD" you will get all the files listed in the "SLOW DOWNLOAD" section.
Password Extract: tienganhedu.com


Frequently asked questions (Q&A)




Contact (Report Broken Link) ---- Copyright Owner (DMCA)