Download Rise and Shine British English (7 Levels) – PDF, Class Audio, Assessment, Resources,….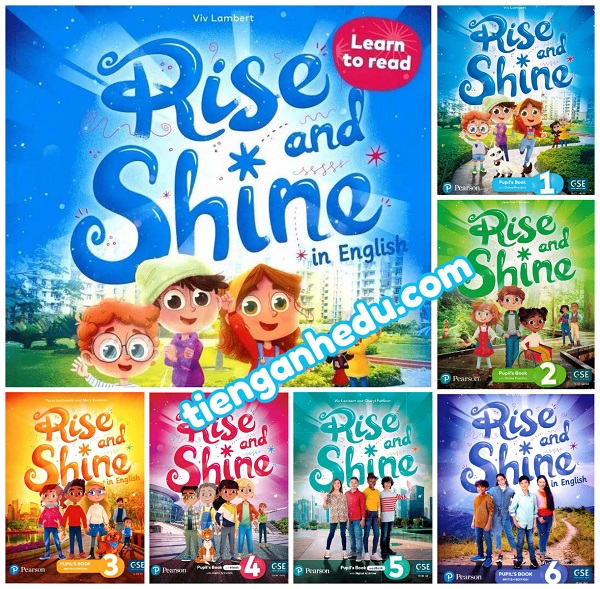 Help turn today's young learners into tomorrow's global citizens with Rise and Shine. Made for inclusive classrooms, learners advance their English skills with diverse characters and situations.
Waiting for PayPal...
Validating payment information...
Waiting for PayPal...


Rise and Shine BRE (7 Levels) – PDF, Resources
Rise and Shine Learn to read – Pupil's Book.pdf
Rise and Shine Learn to read – Activity Book.pdf
Rise and Shine Learn to read – Teacher's Book.pdf
Rise and Shine Learn to read – Class Audio + Scripts
Rise and Shine Learn to read – Video + Scripts
Rise and Shine Learn to read – Assessment
Rise and Shine Learn to read – Teacher's Resources (Answer Keys, Course Pedagogy, Flashcards, Photocopiables, Posters, Songs and chants, Storycards)
Rise and Shine 1 Pupil's Book.pdf
Rise and Shine 1 Activity Book.pdf
Rise and Shine 1 Teacher's Book.pdf
Rise and Shine 1 Class Audio + Scripts
Rise and Shine 1 Video + Scripts
Rise and Shine 1 Assessment
Rise and Shine 1 Teacher's Resources (Answer Keys, Course Pedagogy, Flashcards, Photocopiables, Posters, Songs and chants, Storycards)
Rise and Shine 2 Pupil's Book.pdf
Rise and Shine 2 Activity Book.pdf
Rise and Shine 2 Teacher's Book.pdf
Rise and Shine 2 Class Audio + Scripts
Rise and Shine 2 Video + Scripts
Rise and Shine 2 Assessment
Rise and Shine 2 Teacher's Resources (Answer Keys, Course Pedagogy, Flashcards, Photocopiables, Posters, Songs and chants, Storycards)
Rise and Shine 3 Pupil's Book.pdf
Rise and Shine 3 Activity Book.pdf
Rise and Shine 3 Teacher's Book.pdf
Rise and Shine 3 Class Audio + Scripts
Rise and Shine 3 Video + Scripts
Rise and Shine 3 Assessment
Rise and Shine 3 Teacher's Resources (Answer Keys, Course Pedagogy, Flashcards, Photocopiables, Posters, Songs and chants, Storycards)
Rise and Shine 4 Pupil's Book.pdf
Rise and Shine 4 Activity Book.pdf
Rise and Shine 4 Teacher's Book.pdf
Rise and Shine 4 Class Audio + Scripts
Rise and Shine 4 Video + Scripts
Rise and Shine 4 Assessment
Rise and Shine 4 Teacher's Resources (Answer Keys, Course Pedagogy, Flashcards, Photocopiables, Posters, Songs and chants, Storycards)
Rise and Shine 5 Pupil's Book.pdf
Rise and Shine 5 Activity Book.pdf
Rise and Shine 5 Teacher's Book.pdf
Rise and Shine 5 Class Audio + Scripts
Rise and Shine 5 Video + Scripts
Rise and Shine 5 Assessment
Rise and Shine 5 Teacher's Resources (Answer Keys, Course Pedagogy, Flashcards, Photocopiables, Posters, Songs and chants, Storycards)
Rise and Shine 6 Pupil's Book.pdf
Rise and Shine 6 Activity Book.pdf
Rise and Shine 6 Teacher's Book.pdf
Rise and Shine 6 Class Audio + Scripts
Rise and Shine 6 Video + Scripts
Rise and Shine 6 Assessment
Rise and Shine 6 Teacher's Resources (Answer Keys, Course Pedagogy, Flashcards, Photocopiables, Posters, Songs and chants, Storycards)