Download Compass Reading Future (7 Levels) PDF, Audio, Answers Key, Tests, Resources.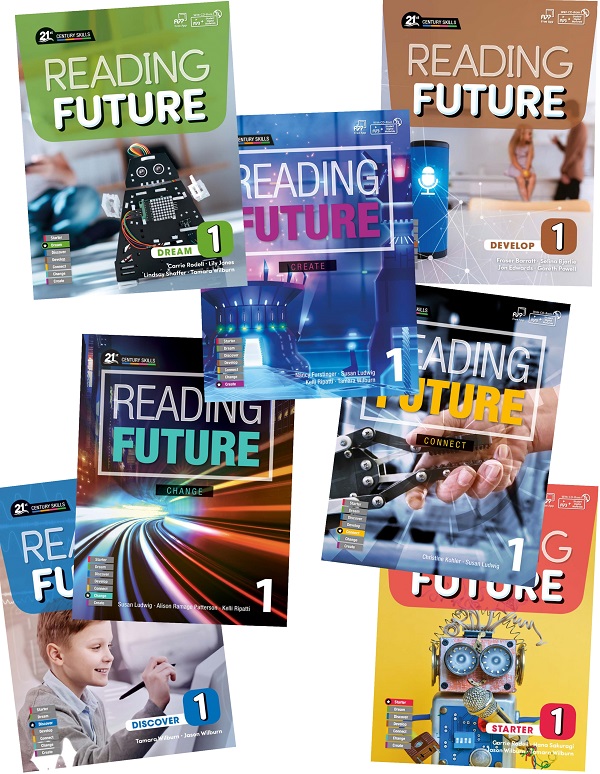 Reading Future is a 7–level reading series for beginner to intermediate learners of English. Each level has three books that increase students' reading skills. Each book contains nonfiction passages covering a broad range of school subjects on high-interest topics linked to the future. Students gradually expand their vocabulary through exposure to high-frequency and practical vocabulary related to the unit topics. Students will develop 21st-century skills and shape the future with Reading Future.
Waiting for PayPal...
Validating payment information...
Waiting for PayPal...


Sample Reading Future 1 Starter
Reading Future Starter
Reading Future 1 Starter Student's Book.pdf
Reading Future 1 Starter Resources (Audio, Answer Key, Flashcards, Lesson Plan, Syllabus, Tests, Transcripts, Translations, Word List, Writing Worksheets)
Reading Future 2 Starter Student's Book.pdf
Reading Future 2 Starter Resources (Audio, Answer Key, Flashcards, Lesson Plan, Syllabus, Tests, Transcripts, Translations, Word List, Writing Worksheets)
Reading Future 3 Starter Student's Book.pdf
Reading Future 3 Starter Resources (Audio, Answer Key, Flashcards, Lesson Plan, Syllabus, Tests, Transcripts, Translations, Word List, Writing Worksheets)
Reading Future Dream
Reading Future 1 Dream Student's Book.pdf
Reading Future 1 Dream Resources (Audio, Answer Key, Flashcards, Lesson Plan, Syllabus, Tests, Transcripts, Translations, Word List, Writing Worksheets)
Reading Future 2 Dream Student's Book.pdf
Reading Future 2 Dream Resources (Audio, Answer Key, Flashcards, Lesson Plan, Syllabus, Tests, Transcripts, Translations, Word List, Writing Worksheets)
Reading Future 3 Dream Student's Book.pdf
Reading Future 3 Dream Resources (Audio, Answer Key, Flashcards, Lesson Plan, Syllabus, Tests, Transcripts, Translations, Word List, Writing Worksheets)
Reading Future Discover
Reading Future 1 Discover Student's Book.pdf
Reading Future 1 Discover Resources (Audio, Answer Key, Flashcards, Lesson Plan, Syllabus, Tests, Transcripts, Translations, Word List, Writing Worksheets)
Reading Future 2 Discover Student's Book.pdf
Reading Future 2 Discover Resources (Audio, Answer Key, Flashcards, Lesson Plan, Syllabus, Tests, Transcripts, Translations, Word List, Writing Worksheets)
Reading Future 3 Discover Student's Book.pdf
Reading Future 3 Discover Resources (Audio, Answer Key, Flashcards, Lesson Plan, Syllabus, Tests, Transcripts, Translations, Word List, Writing Worksheets)
Reading Future Develop
Reading Future 1 Develop Student's Book.pdf
Reading Future 1 Develop Resources (Audio, Answer Key, Flashcards, Lesson Plan, Syllabus, Tests, Transcripts, Translations, Word List, Writing Worksheets)
Reading Future 2 Develop Student's Book.pdf
Reading Future 2 Develop Resources (Audio, Answer Key, Flashcards, Lesson Plan, Syllabus, Tests, Transcripts, Translations, Word List, Writing Worksheets)
Reading Future 3 Develop Student's Book.pdf
Reading Future 3 Develop Resources (Audio, Answer Key, Flashcards, Lesson Plan, Syllabus, Tests, Transcripts, Translations, Word List, Writing Worksheets)
Reading Future Connect
Reading Future 1 Connect Student's Book.pdf
Reading Future 1 Connect Resources (Audio, Answer Key, Flashcards, Lesson Plan, Syllabus, Tests, Transcripts, Translations, Word List, Writing Worksheets)
Reading Future 2 Connect Student's Book.pdf
Reading Future 2 Connect Resources (Audio, Answer Key, Flashcards, Lesson Plan, Syllabus, Tests, Transcripts, Translations, Word List, Writing Worksheets)
Reading Future 3 Connect Student's Book.pdf
Reading Future 3 Connect Resources (Audio, Answer Key, Flashcards, Lesson Plan, Syllabus, Tests, Transcripts, Translations, Word List, Writing Worksheets)
Reading Future Change
Reading Future 1 Change Student's Book.pdf
Reading Future 1 Change Resources (Audio, Answer Key, Flashcards, Lesson Plan, Syllabus, Tests, Transcripts, Translations, Word List, Writing Worksheets)
Reading Future 2 Change Student's Book.pdf
Reading Future 2 Change Resources (Audio, Answer Key, Flashcards, Lesson Plan, Syllabus, Tests, Transcripts, Translations, Word List, Writing Worksheets)
Reading Future 3 Change Student's Book.pdf
Reading Future 3 Change Resources (Audio, Answer Key, Flashcards, Lesson Plan, Syllabus, Tests, Transcripts, Translations, Word List, Writing Worksheets)
Reading Future Create
Reading Future 1 Create Student's Book.pdf
Reading Future 1 Create Resources (Audio, Answer Key, Flashcards, Lesson Plan, Syllabus, Tests, Transcripts, Translations, Word List, Writing Worksheets)
Reading Future 2 Create Student's Book.pdf
Reading Future 2 Create Resources (Audio, Answer Key, Flashcards, Lesson Plan, Syllabus, Tests, Transcripts, Translations, Word List, Writing Worksheets)
Reading Future 3 Create Student's Book.pdf
Reading Future 3 Create Resources (Audio, Answer Key, Flashcards, Lesson Plan, Syllabus, Tests, Transcripts, Translations, Word List, Writing Worksheets)