Download Writing Framework for Sentence|Essay|Paragraph Writing – PDF Student's Book, Audio, Tests, Answer Key, Resources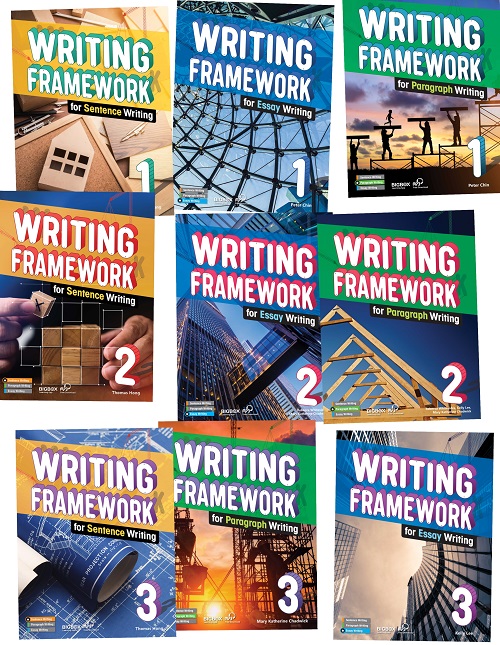 Writing Framework for Sentence Writing is designed to focus on practical writing skills for students at high beginner level. Students gradually build their confidence in writing with a wide range of fun and engaging topics. This series provides young writers the opportunity to develop 21st-century skills and solid foundation in English writing.
Waiting for PayPal...
Validating payment information...
Waiting for PayPal...


Sample Writing Framework 1 for Essay
Writing Framework for Sentence Writing 1 Student's Book.pdf
Writing Framework for Sentence Writing 1 Resources (Audio, Answer Key, ETC, Tests, Lesson Plan, Syllabus, Teacher's Guide, Transcripts, Word List, Word Test, Writing Worksheets)
Writing Framework for Sentence Writing 2 Student's Book.pdf
Writing Framework for Sentence Writing 2 Resources (Audio, Answer Key, ETC, Tests, Lesson Plan, Syllabus, Teacher's Guide, Transcripts, Word List, Word Test, Writing Worksheets)
Writing Framework for Sentence Writing 3 Student's Book.pdf
Writing Framework for Sentence Writing 3 Resources (Audio, Answer Key, ETC, Tests, Lesson Plan, Syllabus, Teacher's Guide, Transcripts, Word List, Word Test, Writing Worksheets)
Writing Framework for Paragraph Writing 1 Student's Book.pdf
Writing Framework for Paragraph Writing 1 Resources (Audio, Answer Key, ETC, Tests, Lesson Plan, Syllabus, Teacher's Guide, Transcripts, Word List, Word Test, Writing Worksheets)
Writing Framework for Paragraph Writing 2 Student's Book.pdf
Writing Framework for Paragraph Writing 2 Resources (Audio, Answer Key, ETC, Tests, Lesson Plan, Syllabus, Teacher's Guide, Transcripts, Word List, Word Test, Writing Worksheets)
Writing Framework for Paragraph Writing 3 Student's Book.pdf
Writing Framework for Paragraph Writing 3 Resources (Audio, Answer Key, ETC, Tests, Lesson Plan, Syllabus, Teacher's Guide, Transcripts, Word List, Word Test, Writing Worksheets)
Writing Framework for Essay Writing 1 Student's Book.pdf
Writing Framework for Essay Writing 1 Resources (Audio, Answer Key, ETC, Tests, Lesson Plan, Syllabus, Teacher's Guide, Transcripts, Word List, Word Test, Writing Worksheets)
Writing Framework for Essay Writing 2 Student's Book.pdf
Writing Framework for Essay Writing 2 Resources (Audio, Answer Key, ETC, Tests, Lesson Plan, Syllabus, Teacher's Guide, Transcripts, Word List, Word Test, Writing Worksheets)
Writing Framework for Essay Writing 3 Student's Book.pdf
Writing Framework for Essay Writing 3 Resources (Audio, Answer Key, ETC, Tests, Lesson Plan, Syllabus, Teacher's Guide, Transcripts, Word List, Word Test, Writing Worksheets)