Download Macmillan Share It! (7 Levels) – PDF, Audio, Video, Test, Worksheets, Resources.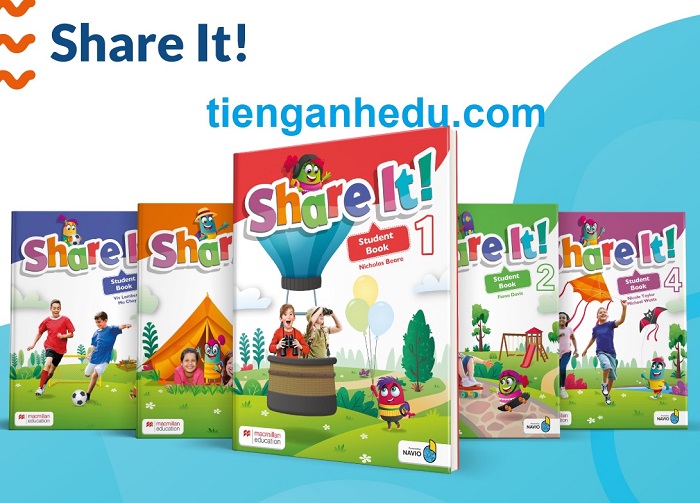 By creating opportunities for sharing experiences and exchanging information, Share It! helps young learners achieve real communicative competence. Nurturing a sense of empathy, where everyone's progress is valued, the course instils a growth mindset in students, enabling them to achieve more in their learning. Share It! also gives teachers all the tools they need to create a positive classroom environment, focusing on the values of respect, kindness and responsibility.
Waiting for PayPal...
Validating payment information...
Waiting for PayPal...


Share It! (7 Levels) – PDF, Resources
Share It! Starter Student's Book.pdf
Share It! Starter Workbook.pdf
Share It! Starter Sharebook.pdf
Share It! Starter Teacher's Edition.pdf
Share It! Starter Audio
Share It! Starter Video
Share It! Starter Flashcards
Share It! Starter Parent Letters
Share It! Starter CEFR Mapping.pdf
Share It! Starter Worksheets
Share It! Starter Placement and Diagnostic Test
Share It! Starter Tests
Share It! 1 Student's Book.pdf
Share It! 1 Workbook.pdf
Share It! 1 Sharebook.pdf
Share It! 1 Teacher's Edition.pdf
Share It! 1 Audio
Share It! 1 Video
Share It! 1 Flashcards
Share It! 1 Parent Letters
Share It! 1 CEFR Mapping.pdf
Share It! 1 Worksheets
Share It! 1 Placement and Diagnostic Test
Share It! 1 Tests
Share It! 2 Student's Book.pdf
Share It! 2 Workbook.pdf
Share It! 2 Sharebook.pdf
Share It! 2 Teacher's Edition.pdf
Share It! 2 Audio
Share It! 2 Video
Share It! 2 Flashcards
Share It! 2 Parent Letters
Share It! 2 CEFR Mapping.pdf
Share It! 2 Worksheets
Share It! 2 Placement and Diagnostic Test
Share It! 2 Tests
Share It! 3 Student's Book.pdf
Share It! 3 Workbook.pdf
Share It! 3 Sharebook.pdf
Share It! 3 Teacher's Edition.pdf
Share It! 3 Audio
Share It! 3 Video
Share It! 3 Flashcards
Share It! 3 Parent Letters
Share It! 3 CEFR Mapping.pdf
Share It! 3 Worksheets
Share It! 3 Placement and Diagnostic Test
Share It! 3 Tests
Share It! 4 Student's Book.pdf
Share It! 4 Workbook.pdf
Share It! 4 Sharebook.pdf
Share It! 4 Teacher's Edition.pdf
Share It! 4 Audio
Share It! 4 Video
Share It! 4 Flashcards
Share It! 4 Parent Letters
Share It! 4 CEFR Mapping.pdf
Share It! 4 Worksheets
Share It! 4 Placement and Diagnostic Test
Share It! 4 Tests
Share It! 5 Student's Book.pdf
Share It! 5 Workbook.pdf
Share It! 5 Sharebook.pdf
Share It! 5 Teacher's Edition.pdf
Share It! 5 Audio
Share It! 5 Video
Share It! 5 Flashcards
Share It! 5 Parent Letters
Share It! 5 CEFR Mapping.pdf
Share It! 5 Worksheets
Share It! 5 Placement and Diagnostic Test
Share It! 5 Tests
Share It! 6 Student's Book.pdf
Share It! 6 Workbook.pdf
Share It! 6 Sharebook.pdf
Share It! 6 Teacher's Edition.pdf
Share It! 6 Audio
Share It! 6 Video
Share It! 6 Flashcards
Share It! 6 Parent Letters
Share It! 6 CEFR Mapping.pdf
Share It! 6 Worksheets
Share It! 6 Placement and Diagnostic Test
Share It! 6 Tests