Free Download TOEFL Strategies and Tips: Outsmart the TOEFL iBT, 2nd edition. — Barron's Educational Series, 2015. PDF, Audio CD.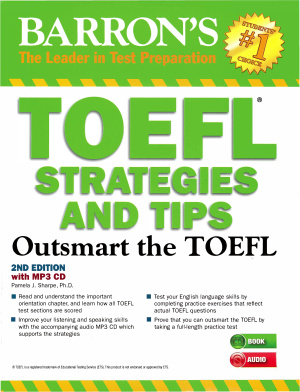 An internationally recognized ESL teacher and TOEFL test-taking advisor presents detailed, step-by-step coaching designed to help students succeed on the Test of English as a Foreign Language.
An opening Orientation chapter discusses the TOEFL's five test areas, explains how they are scored, and offers a general test preparation plan
Subsequent chapters set forth detailed strategies and exercises for success in all five test sections of both the iBT and the ITP TOEFL: : Reading, Listening, Speaking, Structure, and Writing.
Accompanying MP3 CDs complement all of the book's test strategies

All audio material contained on the compact discs is also presented in printed form in the book's Audioscripts section
Answer Keys for all questions appear at the back of the book.
[affegg id=42]
Download Now: