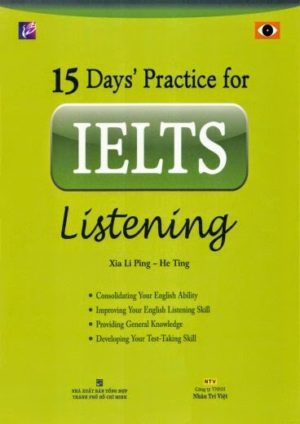 Listening is a very important skill in the IELTS. In general, you need to have a good listening skill to be able to interact with other people. You have to understand what a person is saying to have a logical and meaningful conversation. In the IELTS listening, candidates are presented with four different tasks which evaluate their skills. To add challenge to the test, the accents used in the listening passages are Australian and British accents. How can one practice for the IELTS listening test? Is it possible to review for it within 15 days? It is truly possible when you are at hand this intensive practice book for the IELTS listening.
Contents:
* Day 1: An Overview on the IELTS Listening test
* Day 2: Types of Questions in the IELTS Listening test
* Day 3: Classified Lexical Items (1)
* Day 4: Classified Lexical Items (2)
* Day 5: Multiple-Choice Questions
* Day 6: Gap Filling: Summary Completion
* Day 7: Gap Filling: Form/Note/Table Completion
* Day 8: Gap Filling: Sentence Completion
* Day 9: Matching Words/Phrases/Sentences
* Day 10: Matching with Pictures
* Day 11: Short Answers
* Day 12: True/False Questions
* Day 13: Review
* Day 14: Practice Test (1)
* Day 15: Practice Test (2)
Currently the payment gateway is having problems. Please contact us if you need to buy books.

Đối với khách hàng ở Việt Nam: Liên hệ trực tiếp với Admin để thực hiện mua hàng bằng cách chuyển khoản ngân hàng nội địa.
Note:
When using "FAST DOWNLOAD" you will get all the files listed in the "SLOW DOWNLOAD" section.
Password Extract: tienganhedu.com


Frequently asked questions (Q&A)




Contact (Report Broken Link) ---- Copyright Owner (DMCA)