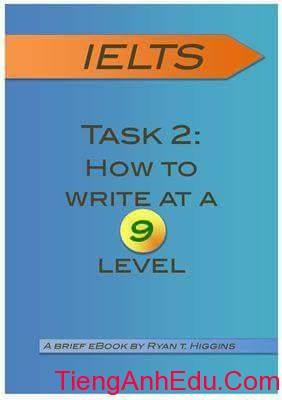 Free Download IELTS Task 2 How To Write At A Band 9 Level Ebook – Ryan T. Higgins
This book has been written to provide the IELTS student with a brief summary- outlining how to write an effective essay in the Task 2 portion of the IELTS exam.
It is hoped that this book acts as a supplement to the student's repertoire of IELTS writing resources and not the student's sole source of guidance for their studies in essay writing. Although valuable, reading up on the subject of IELTS essay writing alone will not ascertain success on the Task 2 portion of the IELTS exam. Students should be actively practicing their essay writing skills on a regular basis with direct instruction from an IELTS instructor.
Regarding structure, readers may at first feel the organization of this book seems awkward. Directions on how to write introduction, supporting and conclusion paragraphs are not grouped into a single chapter but rather intertwined among subjects such as basic essay structure, essay question analysis, coherence and cohesion and thesis writing. It is felt that in presenting these subjects in this manner, the student of IELTS essay writing will be better able to understand how each can be used to strengthen their abilities.
[su_table]
| | |
| --- | --- |
| Book: | [su_button url="https://drive.google.com/file/d/0B0–H4kkTDsUcWVKY3FVQ0xKSDA/view?usp=sharing"]Drive[/su_button] |
[/su_table]