IELTS Academic Task 1 (Beneficial vocabulary, vocabulary and useful language) 2020 (PDF).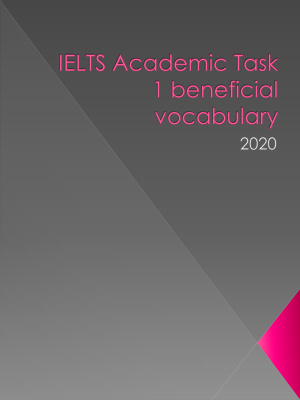 Azizullo Temirov, 2020.
Academic IELTS Writing Task 1 question requires you to use several vocabularies to present the data given in a pie/ bar/ line/ mixed graph or to describe a process or a flow chart. Being able to use appropriate vocabularies, presenting the main trend, comparing & contrasting data and presenting the logical flow of the graph ensure a high band score in your Academic IELTS writing task 1. This vocabulary section aims to help you learn all the vocabularies, phrases and words you need to know and use in your Academic writing task 1 to achieve a higher band score. The examiner will use four criteria to score your response: task achievement, coherence and cohesion, lexical resource, & grammatical range and accuracy.
This file contains lots of beneficial techniques in order to help IELTS test takers for improving their task 1 report skills.
FAST DOWNLOAD (No Ads, 1 Links)
SLOW DOWNLOAD (Ads, Multi Links)
Currently the payment gateway is having problems. Please contact us if you need to buy books.

Đối với khách hàng ở Việt Nam: Liên hệ trực tiếp với Admin để thực hiện mua hàng bằng cách chuyển khoản ngân hàng nội địa.
Note:
When using "FAST DOWNLOAD" you will get all the files listed in the "SLOW DOWNLOAD" section.
Password Extract: tienganhedu.com


Frequently asked questions (Q&A)




Contact (Report Broken Link) ---- Copyright Owner (DMCA)