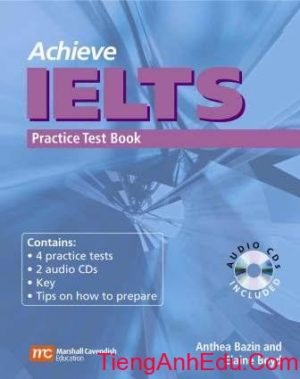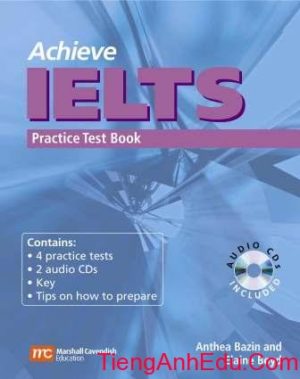 Free Download Achieve IELTS Practice Test By Anthea Bazin & Elaine Boyd book + audio cd
This book provides the practice test with answer keys which is very suitable for self-study students. In additions, the questions of Task 1 and Task 2 IELTS Writing Test have the sample essays that will help you improve your writing skills.
This useful practice test book with four complete IELTS practice tests can be used as a self-study resource or as part of an IELTS preparation course. It provides practice for students preparing for the academic test at any level as well as a comprehensive overview and test-taking strategies.
Main feature:
– Detailed description of the test and its question types
– Four complete IELTS practice tests prepared by experienced examiners and authors of exam materials
– Strategies for preparing for the test
– Two audio CDs with correctly timed pauses to give an authentic test practice experience
– Authentic IELTS test answer sheet for familiarisation by students
– Full answer key with audioscripts and sample writing answers
– Personal assessment sheets for teacher feedback and to assist progress
This book contains:
4 practice tests
2 audio CDs
Answer Key (including sample essays)
Tips on how to prepare
[su_table]
| | |
| --- | --- |
| Book: | [su_button url="https://drive.google.com/file/d/0B_FdReJoUH5oUHlBUFFVaVFtRmM/view?usp=sharing"]Drive[/su_button] |
| Audio CD: | Mediafire: [su_button url="http://www.mediafire.com/file/f1i5e1d15b7857j/Achieve+IELTS+Practice+tests+book+CD1.rar"]CD1[/su_button] [su_button url="http://www.mediafire.com/file/97hama58z88u5ye/Achieve+IELTS+Practice+tests+book+CD2.rar"]CD2[/su_button] |
[/su_table]