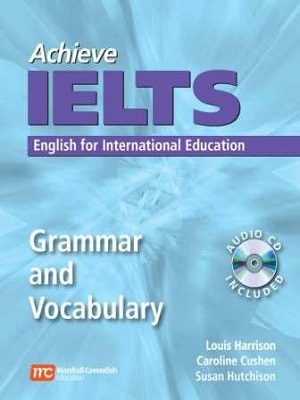 "Achieve IELTS Grammar & Vocabulary" tập trung vào những chủ điểm ngữ pháp quan trọng và từ vựng của kỳ thi IELTS. Kiến thức ngữ pháp được giải thích cụ thể, rõ ràng thông qua ngữ cảnh và các bài tập luyện tập nhằm cung cấp cho học sinh kiến thức ngữ pháp cần thiết để hoàn thành bài thi IELTS. Ví dụ như mô tả các xu hướng và quy trình, và ngữ pháp cho các bài luận mạch lạc.
Phần từ vựng đa dạng cung cấp cho người học các công cụ lý tưởng để mở rộng phạm vi từ vựng của mình. Tài liệu được trình bày logic cho phép người học phát triển ngôn ngữ một cách tự nhiên, phục vụ cho kỳ thi IELTS quốc tế.
Currently the payment gateway is having problems. Please contact us if you need to buy books.

Đối với khách hàng ở Việt Nam: Liên hệ trực tiếp với Admin để thực hiện mua hàng bằng cách chuyển khoản ngân hàng nội địa.
Note:
When using "FAST DOWNLOAD" you will get all the files listed in the "SLOW DOWNLOAD" section.
Password Extract: tienganhedu.com


Frequently asked questions (Q&A)




Contact (Report Broken Link) ---- Copyright Owner (DMCA)