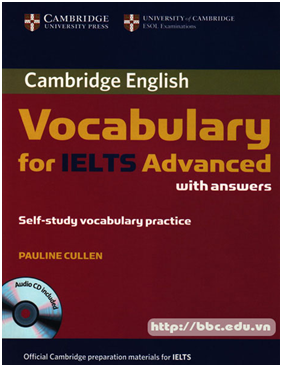 Đây là 1 cuốn sách luyện thi Ielts  bổ trợ bao gồm tất cả từ vựng tiếng Anh cần thiết chắc chắn giúp ích cho các bạn rất nhiều trong kì thi IELTS, thể hiện toàn bộ khả năng tiếng anh của mình. Cambridge Vocabulary For IELTS Advanced này sẽ tập trung nâng cấp vốn từ vựng Ielts cho các bạn tiến đến 6.5 và xa hơn bằng các chiến lược xây dựng khoa học bài bản đảm bảo hiệu quả đạt được ở 1 trình độ cao.
Cuốn sách có nhiều lời khuyên bổ ích từ chuyên gia ngôn ngữ về cách thực hiện bài thi IETLS như cách diễn đạt, cũng như sắp xếp câu cú hợp lí, giúp bạn tiếp tục với những level cao hơn. Cuốn sách IELTS Vocabulary Advanced này được công nhận bởi đại học Cambridge về nội dung được tổng kết từ các kì thi thực tế và thống kê các sai lầm của học viên trong các kì thi từ trước đến nay. Các bạn có thể tự học trao dồi kiến thức tiếng Anh của mình tại nhà và trao đổi với giáo viên Trung tâm Anh ngữ BBC  để có hướng sử dụng tốt nhất.
Free download is hidden due to the owner's request
[affegg id=133]
Currently the payment gateway is having problems. Please contact us if you need to buy books.

Đối với khách hàng ở Việt Nam: Liên hệ trực tiếp với Admin để thực hiện mua hàng bằng cách chuyển khoản ngân hàng nội địa.
Note:
When using "FAST DOWNLOAD" you will get all the files listed in the "SLOW DOWNLOAD" section.
Password Extract: tienganhedu.com


Frequently asked questions (Q&A)




Contact (Report Broken Link) ---- Copyright Owner (DMCA)