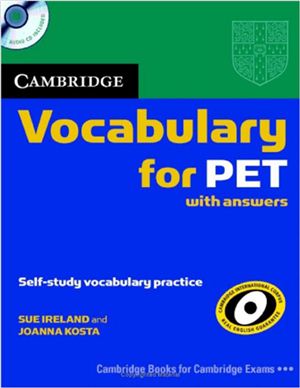 Bộ sách Vocabulary for PET bao gồm 20 chủ điểm bài học về các vấn đề thông thường trong tiếng anh. Ngoài ra, người học Vocabulary for PET còn được luyện tập các kỹ năng và từ vựng đã học được qua mỗi bài học, các bài kiểm tra trong sách có phong cách khá giống với đề thi thật.
Đảm bảo rằng học Vocabulary for Pet sẽ đem lại một vốn từ vựng cơ bản vững chắc để đối phó với kỳ thi PET
Vocabulary for PET is presented in 20 topic-based units of 4 pages each. The vocabulary is presented in context and students use exam style activities to practise using the vocabulary. Every part of the PET exam is practised more than once.
NB: The book is not complete. It contains only the 20 topic based units (unit 1 has a page missing) and the appendices. It does not contain the answers or the audio scripts.
Free download is hidden due to the owner's request (Update:26/8/2020)
Cambridge Vocabulary for PET with answers
Cambridge Vocabulary for PET with answers (Audio)
No Ads, 1 Links (Drive), No Waiting For Time