Download Big Step TOEIC 1,2,3 (PDF + CD).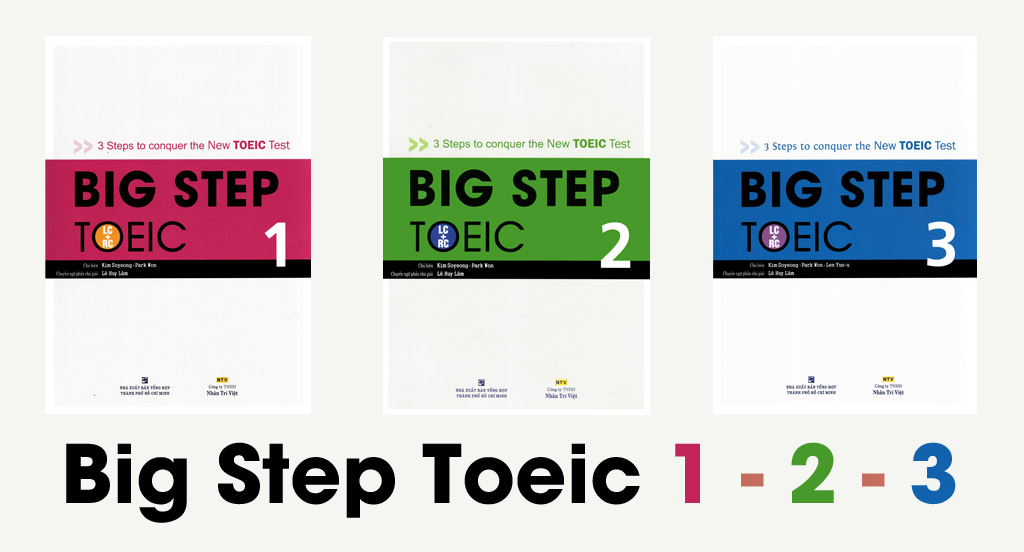 Big Step TOEIC by Kim Soyeong and Park Won is intended to help learners improve their English proficiency and improve their TOEIC scores in the shortest possible time. Simple, easy-to-understand, well-written, structured, and easy-to-read book.In addition, the Big Toeic curriculum also offers the types of questions relevant to the actual TOEIC question, meeting the needs and level of learners. The most striking feature of this material is that the LC and RC sections are made up of a single document that explains the same content, making it easy for beginners to access the TOEIC test. In addition, the curriculum addresses the types of questions that correspond to the actual TOEIC question, meets the needs and level of the beginner, begins with an explanation of the main content and presentation. Important sections at each step.Big Step TOEIC instruction set consists of 3 main levels divided into 3 levels.
Big Step TOEIC 1: Beginner (TOEIC 400 – 550)
This book helps the TOEIC learners to grasp the core issues of each part. The learning objectives are expressed in the order of the questions that beginners can grasp the important parts of a TOEIC test.
Big Step TOEIC 2: Beginner (TOEIC 500 – 750)
Helps learners improve their vocabulary and comprehension. This textbook is equivalent to a score of 630 -> 700. The wide variety of questions will help students to easily adapt to the real TOEIC questions.
Big Step TOEIC 3: Advanced (TOEIC 700 – 900+)
Big Step TOEIC 3 is a compilation of all the contents of both the Listening Comprehension and the Reading Comprehension sections, which will help you to check the knowledge you've learned in Big Steps 1 and 2. Actual Tests will help you get familiar with the format of a TOEIC test.
No Ads, 1 Links, No Waiting For Time