Cambridge More! 4 – Second Edition (Class Audio CD, Teacher's Book, Teacher's Resource Book, Workbook CD)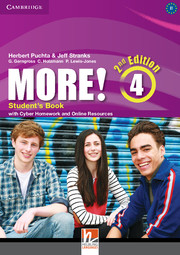 MORE! Second edition is a four-level English course from highly respected authors that inspires young teenagers to learn.
MORE! Second edition is a four-level English course from recognised authors for lower secondary students. This new edition is bursting with added features and an even more user-friendly design to capture young teenagers' imagination and help improve their learning. The course encourages reading for pleasure with new adventure photostories and engaging texts. Both CLIL sections, now an integral part of each lesson, and mini-projects inspire teenagers' natural curiosity. In addition to dedicated grammar, vocabulary and skills sections, MORE! also helps improve your students' exam results with new exam skills sections and learning tips in the Workbook. Each level of MORE! offers 80-90 hours of teaching material and a rich choice of digital components for you and your students. Cyber Homework and web resources make homework and language practice enjoyable for students, while the Presentation Plus DVD-ROM, Testbuilder CD-ROM and DVD provide additional support with teaching and monitoring your students' progress.
Free download is hidden due to the owner's request
More! 4 Class_Audio 2nd Edition
More! 4 Teacher's Book 2nd Edition
More! 4 TRB 2nd Edition
More! 4 WB_Audio 2nd Edition
More! 4 Grammar and Communication Worksheets & Answer Key and DVD Worksheets
Pass Unrar: tienganhedu.com
No Ads, 1 Links, No Waiting For Time
Currently the payment gateway is having problems. Please contact us if you need to buy books.

Đối với khách hàng ở Việt Nam: Liên hệ trực tiếp với Admin để thực hiện mua hàng bằng cách chuyển khoản ngân hàng nội địa.
Note:
When using "FAST DOWNLOAD" you will get all the files listed in the "SLOW DOWNLOAD" section.
Password Extract: tienganhedu.com


Frequently asked questions (Q&A)




Contact (Report Broken Link) ---- Copyright Owner (DMCA)