Download Your Space 3 Levels Student's Book + Workbook + Teacher's Book + Audio CDs (PDF, Audio,…).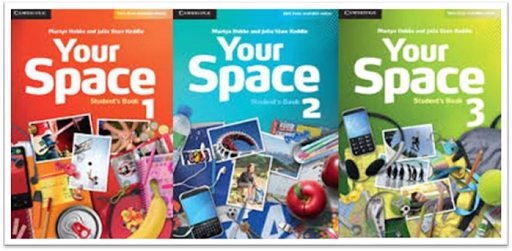 Your Space is a three-level course designed to motivate students as they change and grow. Your Space links your students' own world to the language classroom, giving them 'space' to explore and develop their English language skills, and takes them step by step through the language they need at this level. There is an emphasis on achievement from the start. It encourages learner autonomy while recognising that learners need feedback and a sense of progress to maintain momentum. Students are supported to explore and personalise new language, they are provided with models and guidance to communicate effectively and with confidence in everyday situations. Topics have been chosen to engage and educate the digital generation and bring a world they can relate to into the classroom. Learners are exposed to a wide variety of language in authentic contexts and provided with the tools they need to produce their very own English. A highly interactive Web Zone provides a real incentive to practice language at home.
No Ads, 1 Links, No Waiting For Time
Currently the payment gateway is having problems. Please contact us if you need to buy books.

Đối với khách hàng ở Việt Nam: Liên hệ trực tiếp với Admin để thực hiện mua hàng bằng cách chuyển khoản ngân hàng nội địa.
Note:
When using "FAST DOWNLOAD" you will get all the files listed in the "SLOW DOWNLOAD" section.
Password Extract: tienganhedu.com


Frequently asked questions (Q&A)




Contact (Report Broken Link) ---- Copyright Owner (DMCA)