Download Quick Minds – Cambridge University Press (Beginner – Elementary). Author: Herbert Puchta, Günter Gerngross, Peter Lewis-Jones.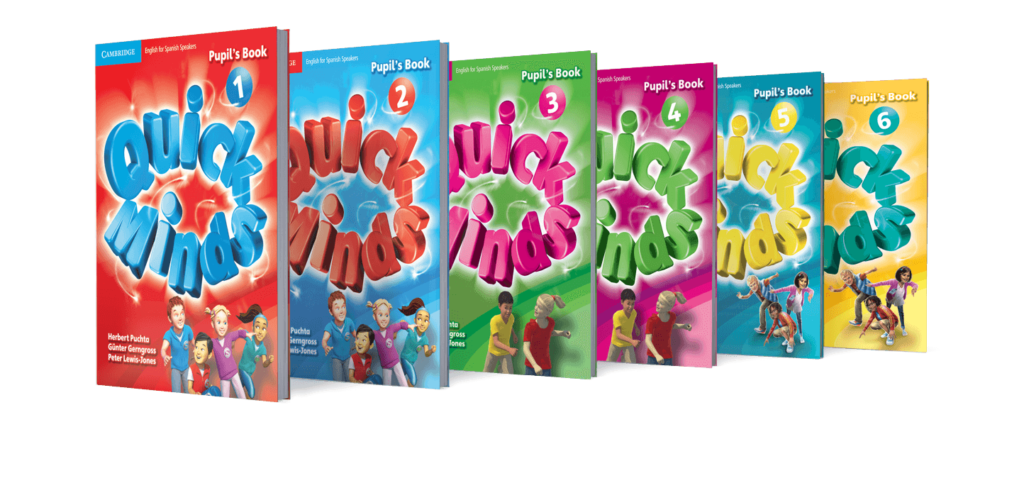 Quick Minds is an exciting, six-level course for young learners in Spain that enhances your students' thinking skills, sharpening their memory while improving their language skills.
Written by a highly respected author team, Quick Minds has been carefully crafted to help your students achieve their full potential. Simultaneously promoting creative thinking and social values, the course carefully develops your students' thinking skills, sharpening their memory and improving their concentration. Engaging characters accompany learners on their journey and, as the students grow, so do the characters: new faces are introduced every two levels. Quick Minds is highly flexible and can be adapted to meet available classroom time and your teaching needs: the Pupil's Book features both core and optional content, as well as activities especially designed for Spanish-speaking learners such as phonics and typical learner errors. The accompanying Activity Book, online interactive activities, flashcards, wordcards, posters and Digital Minds for interactive whiteboard provide all the material you need to keep your students engaged. This stimulating course comfortably covers Cambridge English: Movers by level 6.
Key features
Quick Minds has been designed specifically for Spanish primary schools and with the Spanish educational curriculum in mind.
'Think!' activities are designed to improve pupils' memory and concentration skills.
'Create that!' and 'Do that! sections develop children's creativity and imagination.
'Learn and Think' CLIL lessons make language learning more memorable and engaging.

Updated:1/5/2021
No Ads, 1 Links, No Waiting For Time