Download Macmillan Doodle Town (Second Edition) 4 Levels – PDF, Audio, Video, Resources.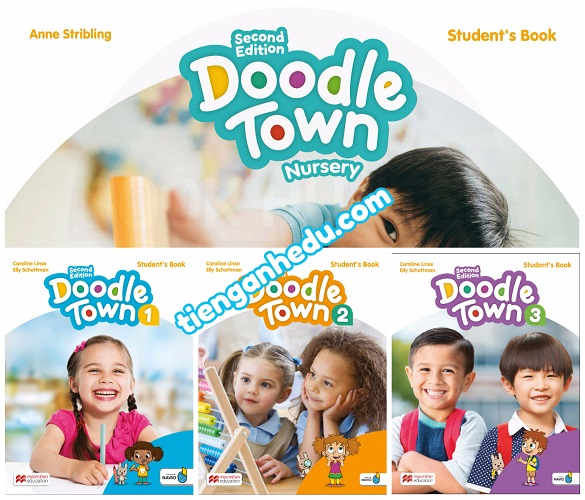 Doodle Town Second Edition is an enhanced version of this best-loved American English pre-primary course, which offers a guided approach to early literacy and a focus on social and emotional learning. It prepares children for their life-long learning journey and is a great place to grow.

Waiting for PayPal...
Validating payment information...
Waiting for PayPal...

Doodle Town (Second Edition) 4 Levels – PDF, Resources
Doodle Town (2e) Nursery – Student's Book.pdf
Doodle Town (2e) Nursery – Teacher's Edition.pdf
Doodle Town (2e) Nursery – Audio
Doodle Town (2e) Nursery – Video
Doodle Town (2e) Nursery – Letters to Parents
Doodle Town (2e) Nursery – Print and Play Materials
Doodle Town (2e) Nursery – Resources
Doodle Town (2e) 1 – Student's Book.pdf
Doodle Town (2e) 1 – Activity Book.pdf
Doodle Town (2e) 1 – Teacher's Edition.pdf
Doodle Town (2e) 1 – Audio
Doodle Town (2e) 1 – Video
Doodle Town (2e) 1 – Assessment
Doodle Town (2e) 1 – Letters to Parents
Doodle Town (2e) 1 – Print and Play Materials
Doodle Town (2e) 1 – Resources
Doodle Town (2e) 2 – Student's Book.pdf
Doodle Town (2e) 2 – Activity Book.pdf
Doodle Town (2e) 2 – Teacher's Edition.pdf
Doodle Town (2e) 2 – Audio
Doodle Town (2e) 2 – Video
Doodle Town (2e) 2 – Assessment
Doodle Town (2e) 2 – Letters to Parents
Doodle Town (2e) 2 – Print and Play Materials
Doodle Town (2e) 2 – Resources
Doodle Town (2e) 3 – Student's Book.pdf
Doodle Town (2e) 3 – Activity Book.pdf
Doodle Town (2e) 3 – Teacher's Edition.pdf
Doodle Town (2e) 3 – Audio
Doodle Town (2e) 3 – Video
Doodle Town (2e) 3 – Assessment
Doodle Town (2e) 3 – Letters to Parents
Doodle Town (2e) 3 – Print and Play Materials
Doodle Town (2e) 3 – Resources