Download Cambridge Collaborate (Updated edition) 4 Levels – Presentation Plus (English for Spanish Speakers).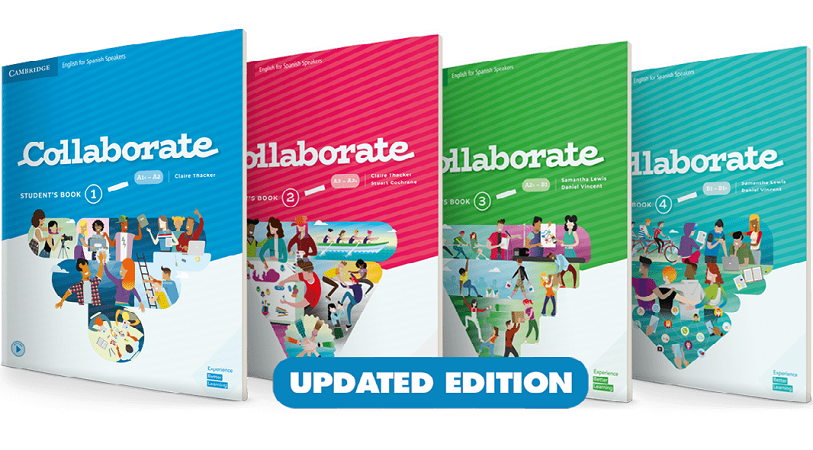 Collaborate is an innovative secondary course that will help you and your students take an important step towards creating a collaborative and positive environment in the classroom. It offers solid language learning while providing a new way of teaching and learning, innovative yet practical. It's time to change and bring real collaboration into the classroom.
This updated edition includes LOMLOE additions, such as new Key Competencies practice pages; and other new components that will make the adaptation to the new law and the constant changes in classroom easy and carefree. Levels 1 and 3 are already available, with levels 2 and 4 coming in 2023.
Waiting for PayPal...
Validating payment information...
Waiting for PayPal...

Collaborate (Updated Edition) 4 Levels – Presensentation Plus (Windows)
Collaborate Level 1 (Updated Edition) – Presentation Plus (Windows)
Collaborate Level 2 (Vol1) – Presentation Plus (Windows) 
Collaborate Level 2 (Vol2) – Presentation Plus (Windows) 
Collaborate Level 3 (Updated Edition) – Presentation Plus (Windows)
Collaborate Level 4 (Vol1) – Presentation Plus (Windows) 
Collaborate Level 4 (Vol2) – Presentation Plus (Windows) 
Collaborate (Updated Edition) – Presentation Plus (Mac)
Collaborate (Updated Edition) Level 1 – Presentation Plus (Mac)
Collaborate (Updated Edition) Level 3 – Presentation Plus (Mac)
Collaborate (Updated Edition) – Presentation Plus (Linux)
Collaborate (Updated Edition) Level 1 – Presentation Plus (Linux)
Collaborate (Updated Edition) Level 3 – Presentation Plus (Linux)