Download Cambridge Eyes Open – English Course for Middle School. Publisher: Cambridge University Press, Discovery Educations. Autho): Ceri Jones, Ben Goldstein, 2015 – 2018 (PDF, MP3, AVI, CD-rom (ISO)).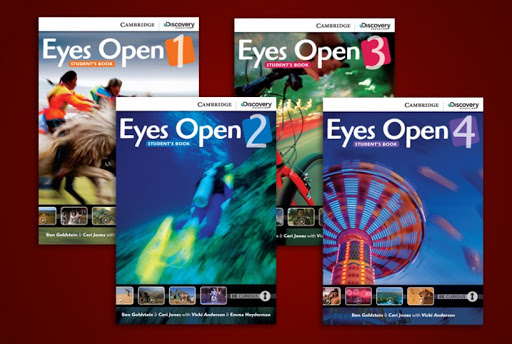 Eyes Open combines captivating video from Discovery Education™ with an effective lesson approach that promotes communication and develops critical 21st Century Skills. With Eyes Open, learning English will be much more interesting as students embark on a journey of discovery and exploration of the cultures and peoples of the world around them.
The Eyes Open Student's Book introduces and explores language through compelling, interest-grabbing topics that appeal to young teens, sparking their interest and curiosity, and providing multiple opportunities for meaningful language production while building inter-cultural awareness.
The Workbook offers additional practice of all the language and skills presented in the Student's Book. Free access to extra Online Practice on the Cambridge Learning Management Platform will engage learners and encourage autonomous learning.
The Teacher's Book will help you get the most out of Eyes Open for you and your students. In includes detailed lesson plans for quick and easy lesson preparation, extra optional activities and tips for supporting and challenging students in mixed ability classes. The Teacher's Book offers full support including lesson plans, audio scripts, answer keys, extra games and activities, tips for mixed ability classes and CEFR mapping by unit.
Eyes Open Values activities encourage your students to reflect on positive social behaviours and important universal values such as developing intercultural awareness, understanding global issues and appreciation and respect for others.
Key Features:

– High-interest video and stimulating global topics spark curiosity and engage and motivate teenage learners.
– A careful progression of personalised language building activities leads to greater speaking and writing fluency.
– Flexible teaching support for mixed ability classes includes graded tests and extra practice activities, plus Preliminary and Key for Schools exam-style tests.

Eyes Open (4 Levels) – PDF, Resources:
Eyes Open Placement Tests
Eyes Open 1 Students Book
Eyes Open 1 Class Audio CDs
Eyes Open 1 Workbook
Eyes Open 1 Workbook Audio CDs
Eyes Open 1 Teacher's book
Eyes Open 1 Teacher's Resources
Eyes Open 1 Tests
Eyes Open 1 Video
Eyes Open 2 Students Book
Eyes Open 2 Class Audio CDs
Eyes Open 2 Workbook
Eyes Open 2 Workbook Audio CDs
Eyes Open 2 Video
Eyes Open 2 Teacher's book
Eyes Open 2 Teacher's Resources
Eyes Open 2 Tests
Eyes Open 2 Wordlist
Eyes Open 3 Students Book
Eyes Open 3 Class Audio CDs
Eyes Open 3 Workbook
Eyes Open 3 Workbook Audio CDs
Eyes Open 3 Video
Eyes Open 3 Teacher's book
Eyes Open 3 Teacher's Resources
Eyes Open 3 Tests
Eyes Open 4 Students Book
Eyes Open 4 Class Audio CDs
Eyes Open 4 Workbook
Eyes Open 4 Workbook Audio CDs
Eyes Open 4 Video
Eyes Open 4 Teacher's book
Eyes Open 4 Teacher's Resources
Eyes Open 4 Tests
——————
Eyes Open (4 Levels) – Presentation Plus:
Eyes Open 1 Presentation Plus
Eyes Open 2 Presentation Plus
Eyes Open 3 Presentation Plus
Eyes Open 4 Presentation Plus