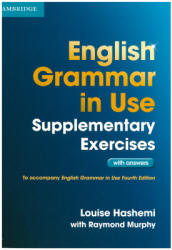 Free Download English Grammar in Use. Supplementary Exercises with answers.  Louise Hashemi, Raymond Murphy
This new edition has been thoroughly updated and revised to accompany the fourth edition of English Grammar in Use. The book contains 200 varied exercises to provide students with extra practice of the grammar they have studied. This 'with answers' version is ideal for self-study. A version without answers is available separately.
To accompany English Grammar in Use Fourth Edition.