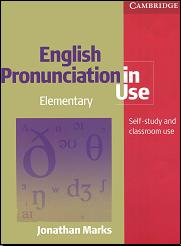 Free Download English Pronunciation in Use – Elementary.   Jonathan Marks – Book(PDF)+Audio CD(WMA).
Cambridge University Press, 2007.  – 168 с. + Audio 5CD, Self-study and classroom use.
The best-selling English Pronunciation in Use is a comprehensive reference and practice book suitable for self-study or classroom work. Fifty easy-to-use units cover all aspects of pronunciation, including individual sounds, word stress, connected speech and intonation. Each unit is supported by audio material in a range of accents, available on audio CD. An additional reference section offers a glossary of specialized terms, help with the pronunciation of numbers and geographical names and fun exercises on phonemic symbols and minimal pairs.
The CD-ROM provides a wide variety of additional interactive activities to reinforce the pronunciation covered in the book, as well as tests, progress checks, games and animated diagrams of the mouth showing learners how to produce individual sounds. Students can also record themselves and compare their pronunciation with one of the many models provided.
English Pronunciation in Use Elementary includes 5 sections: A. Sounds and spelling, B. syllables and words, C. Phrases, sentences and grammar, D. Conversation, E. Reference.
5 CDs with CD1 (units 1-12), CD2 (units 13-27), CD3 (units 28-43), CD4 (units 44-50, Section E5-E8), CD5 (Section E3, Sound Pair 1-37)
Free download is hidden due to the owner's request
Currently the payment gateway is having problems. Please contact us if you need to buy books.

Đối với khách hàng ở Việt Nam: Liên hệ trực tiếp với Admin để thực hiện mua hàng bằng cách chuyển khoản ngân hàng nội địa.
Note:
When using "FAST DOWNLOAD" you will get all the files listed in the "SLOW DOWNLOAD" section.
Password Extract: tienganhedu.com


Frequently asked questions (Q&A)




Contact (Report Broken Link) ---- Copyright Owner (DMCA)