Download Integrate Listening & Speaking (Basic | Building) PDF, Audio, Video, Key, Test, Word List.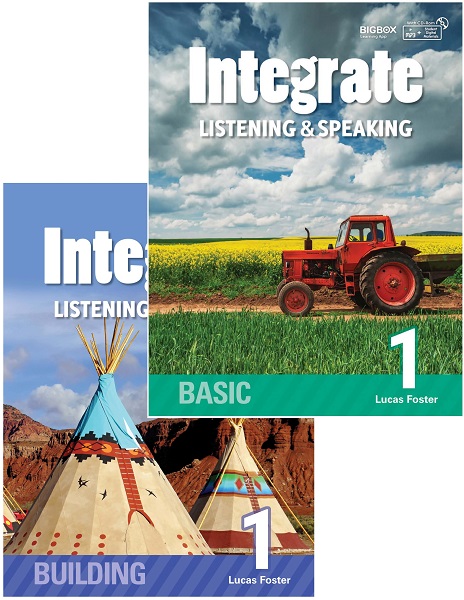 Integrate Listening and Speaking Series is a multi-level listening and speaking series for beginner to intermediate learners of English. The series features listening in a variety of formats on high-interest topics linked to common academic standards.
Waiting for PayPal...
Validating payment information...
Waiting for PayPal...

Integrate Listening & Speaking Basic (4 Levels) PDF, Resources
Integrate Listening & Speaking Basic 1.pdf
Integrate Listening & Speaking Basic 1 Audio
Integrate Listening & Speaking Basic 1 Video
Integrate Listening & Speaking Basic 1 Answers Key
Integrate Listening & Speaking Basic 1 Tests
Integrate Listening & Speaking Basic 1 Word List
Integrate Listening & Speaking Basic 1 Teachers Guide
Integrate Listening & Speaking Basic 1 Writing Worksheets
Integrate Listening & Speaking Basic 1 Syllabus
Integrate Listening & Speaking Basic 1 Transcripts
Integrate Listening & Speaking Basic 2.pdf
Integrate Listening & Speaking Basic 2 Audio
Integrate Listening & Speaking Basic 2 Video
Integrate Listening & Speaking Basic 2 Answers Key
Integrate Listening & Speaking Basic 2 Tests
Integrate Listening & Speaking Basic 2 Word List
Integrate Listening & Speaking Basic 2 Teachers Guide
Integrate Listening & Speaking Basic 2 Writing Worksheets
Integrate Listening & Speaking Basic 2 Syllabus
Integrate Listening & Speaking Basic 2 Transcripts
Integrate Listening & Speaking Basic 3.pdf
Integrate Listening & Speaking Basic 3 Audio
Integrate Listening & Speaking Basic 3 Video
Integrate Listening & Speaking Basic 3 Answers Key
Integrate Listening & Speaking Basic 3 Tests
Integrate Listening & Speaking Basic 3 Word List
Integrate Listening & Speaking Basic 3 Teachers Guide
Integrate Listening & Speaking Basic 3 Writing Worksheets
Integrate Listening & Speaking Basic 3 Syllabus
Integrate Listening & Speaking Basic 3 Transcripts
Integrate Listening & Speaking Basic 4.pdf
Integrate Listening & Speaking Basic 4 Audio
Integrate Listening & Speaking Basic 4 Video
Integrate Listening & Speaking Basic 4 Answers Key
Integrate Listening & Speaking Basic 4 Tests
Integrate Listening & Speaking Basic 4 Word List
Integrate Listening & Speaking Basic 4 Teachers Guide
Integrate Listening & Speaking Basic 4 Writing Worksheets
Integrate Listening & Speaking Basic 4 Syllabus
Integrate Listening & Speaking Basic 4 Transcripts
Integrate Listening & Speaking Building (4 Levels) PDF, Resources
Integrate Listening & Speaking Building 1.pdf
Integrate Listening & Speaking Building 1 Audio
Integrate Listening & Speaking Building 1 Video
Integrate Listening & Speaking Building 1 Answers Key
Integrate Listening & Speaking Building 1 Tests
Integrate Listening & Speaking Building 1 Word List
Integrate Listening & Speaking Building 1 Teachers Guide
Integrate Listening & Speaking Building 1 Writing Worksheets
Integrate Listening & Speaking Building 1 Syllabus
Integrate Listening & Speaking Building 1 Transcripts
Integrate Listening & Speaking Building 2.pdf
Integrate Listening & Speaking Building 2 Audio
Integrate Listening & Speaking Building 2 Video
Integrate Listening & Speaking Building 2 Answers Key
Integrate Listening & Speaking Building 2 Tests
Integrate Listening & Speaking Building 2 Word List
Integrate Listening & Speaking Building 2 Teachers Guide
Integrate Listening & Speaking Building 2 Writing Worksheets
Integrate Listening & Speaking Building 2 Syllabus
Integrate Listening & Speaking Building 2 Transcripts
Integrate Listening & Speaking Building 3.pdf
Integrate Listening & Speaking Building 3 Audio
Integrate Listening & Speaking Building 3 Video
Integrate Listening & Speaking Building 3 Answers Key
Integrate Listening & Speaking Building 3 Tests
Integrate Listening & Speaking Building 3 Word List
Integrate Listening & Speaking Building 3 Teachers Guide
Integrate Listening & Speaking Building 3 Writing Worksheets
Integrate Listening & Speaking Building 3 Syllabus
Integrate Listening & Speaking Building 3 Transcripts
Integrate Listening & Speaking Building 4.pdf
Integrate Listening & Speaking Building 4 Audio
Integrate Listening & Speaking Building 4 Video
Integrate Listening & Speaking Building 4 Answers Key
Integrate Listening & Speaking Building 4 Tests
Integrate Listening & Speaking Building 4 Word List
Integrate Listening & Speaking Building 4 Teachers Guide
Integrate Listening & Speaking Building 4 Writing Worksheets
Integrate Listening & Speaking Building 4 Syllabus
Integrate Listening & Speaking Building 4 Transcripts