Longman Intelligent Business Elementary, Pre-Intermediate, Intermediate, Upper-Intermediate, Advanced. Publisher: Longman Pearson, Christie Jonson, 2006-2011.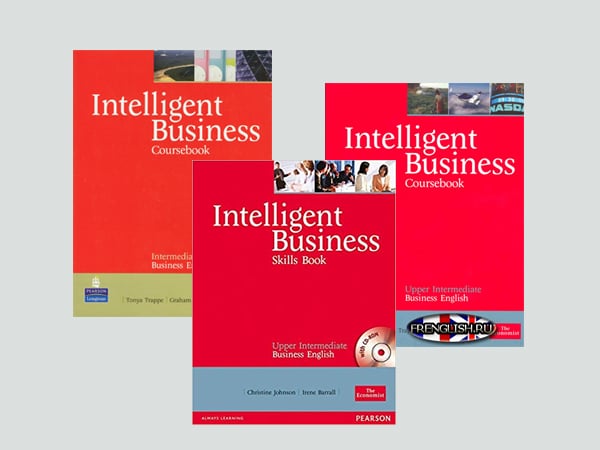 Intelligent Business uses informative and up-to-date authentic material from the Economist. It is fully benchmarked alongside the Cambridge BEC exam suite and Common European Framework.
The topic-based course book provides an accessible introduction to the concepts and language of today's business world. Featuring authentic texts from the well-respected Economist magazine, the Intelligent Business course materials informative, up-to-date and highly motivating.
Prepare your students for the world of business with the Intelligent Business Course Book. Using authentic materials from the Economist© magazine Intelligent Business covers key business concepts within a comprehensive business English syllabus.

What's special about the Intelligent Business Course Book?
* You can effortlessly blend the development of language skills with the introduction of business concepts.
* Boost your students' business writing skills the Style Guide has authentic business documents like emails, minutes and reports.
* Add international business flavour to your lessons with the Culture at Work' sections.
* Challenge your students with the Dilemma and Decision' section in every unit which asks students to evaluate a real-life business dilemma.
* Easily prepare students for BEC exams using the Workbook that has plenty of BEC-style exercises and an authentic Practice Test.
Free download is hidden due to the owner's request
Intelligent Business Elementary Course book
Intelligent Business Elementary Course book audio CD
Intelligent Business Elementary Russia
Intelligent Business Elementary Workbook
Intelligent Business Elementary Workbook Audio CD
Intelligent Business Elementary Teacher's book
Intelligent Business Elementary Skills book
Intelligent Business Elementary Skills Book and CD-ROM
Intelligent Business Elementary Test Master CD
Intelligent Business Elementary Style Guide
Intelligent Business – Pre-Intermediate Course book
Intelligent Business – Pre-Intermediate Course book audio CD
Intelligent Business – Pre-Intermediate Workbook
Intelligent Business – Pre-Intermediate Workbook Audio CD
Intelligent Business – Pre-Intermediate CDRom
Intelligent Business – Pre-Intermediate Teacher's book
Intelligent Business – Pre-Intermediate Style Guide
Intelligent Business – Pre-Intermediate Test Master CDRom
Intelligent Business – Pre-Intermediate Skills Cd-Rom
Intelligent Business Intermediate Course book (PDF)
Intelligent Business Intermediate Course book (PPT)
Intelligent Business Intermediate Course book audio CD
Intelligent Business Intermediate Workbook
Intelligent Business Intermediate Workbook Audio CD
Intelligent Business Intermediate Teacher's book
Intelligent Business Intermediate Test Master CD Rom
Intelligent Business Intermediate Style Guide
Intelligent Business Intermediate Skills book CD
Intelligent Business Intermediate Skills book
Intelligent Business Intermediate Cd-Rom
Intelligent Business Intermediate Video AVI + Video Resource Book
Intelligent Business Upper-Intermediate Course book
Intelligent Business Upper-Intermediate Course book audio CD
Intelligent Business Upper-Intermediate Workbook
Intelligent Business Upper-Intermediate Workbook Audio CD
Intelligent Business Upper-Intermediate Teacher's book
Intelligent Business Upper-Intermediate Skills book
Intelligent Business Upper-Intermediate CD Rom
Intelligent Business Advanced CoursEbook
Intelligent Business Advanced CoursEbook audio CD
Intelligent Business Advanced Workbook
Intelligent Business Advanced Workbook Audio CD
Intelligent Business Advanced Teacher's book
Intelligent Business Advanced CDRom
Intelligent Business Advanced Skills book
Intelligent Business Advanced Style Guide
No Ads, 1 Links (Drive), No Waiting For Time