Motivate! by Macmillan Free Download ( PDF, Mp3, ISO) . English Course for Middle School. Motivate is a 4-Level course designed specifically for teenage learners in mixed-ability classes, encouraging students to learn about the world around them and develop cultural awareness alongside academic skills.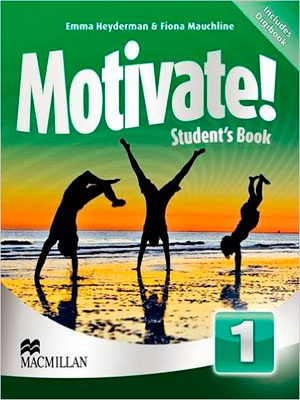 Motivate! is a four-level well-balanced course for secondary school students. There is a sensible paced approach to teaching grammar, vocabulary, pronunciation and the four skills, with an emphasis on mixed abilities.
Each Student's Book comes with a Digibook on a DVD-ROM. The Workbook with Audio CDs provides an outstanding recourse for additional practice and consolidation of materials taught in the Student's Book. The Teacher's Book comes with ready-made tests and a test generator, and provides comprehensive support and step-by-step guides to the teaching material in the Student's Book.
The Student's Book offers a balanced approach to learning with nine units covering the four skills in a fun and engaging way. Key points are highlighted in sections during the unit and a revision section tests student's after every third unit. The Digibook CD-Rom contains a page-faithful version of the Student's Book with embedded audio and tools.
The Workbook consolidates learning from the Student's Book and provides new material to help strengthen students' understanding, while wordlists and vocabulary sections provide perfect referencing material. Two accompanying Audio CDs contain recordings of listening activities, speaking exercises and unit grammar checks.
The Teacher's Book provides comprehensive support and step-by-step guidelines to teaching material in the Student's Book and Workbook. Clear unit objectives, additional activities and extra ideas are included. Class Audio CDs, Tests and Exams Multi-ROM and Tests Generator Multi-ROM all accompany this pack providing teachers with valuable tools.
The Interactive Classroom is an interactive Whiteboard (IWB) version of the Student's Book. Along with embedded class audio, interactive tools and options to reveal the Student's Book answers, the IWB is perfect for whole class learning and facilitating class participation.
[affegg id=63] [affegg id=64] [affegg id=65]
No Ads, 1 Links (Drive), No Waiting For Time