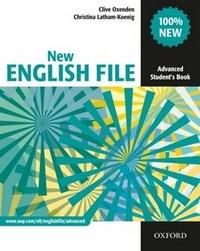 At this level, the student learns to command a wide range of the English language use.
The New English file Advanced course offers further motivation to advanced level students, focusing on lexis as in expanding the student's knowledge of phrases, idioms, and also a development of awareness of levels of formality and informality. The NEF Advanced course also contains meaningful and motivating context and topics
In this NEF Advanced English language course, students will learn:
To understand a wide range of demanding, longer texts, and recognise implicit meaning.
To express ideas fluently and spontaneously without much obvious searching for expressions.
To use language flexibly and effectively for social, academic and professional purposes.
To produce clear, well-structured, detailed text on complex subjects, showing controlled use of organisational patterns, connectors and cohesive devices.
You the teacher will need the NEF Advanced student's book, the NEF Advanced teacher's book, the NEF Advanced workbook, and also the NEF Advanced class audio.