Download Oxford Discover 1-6, English Course for Schools, Second Edition 2019 (PDF, MP3, AVI, DOC).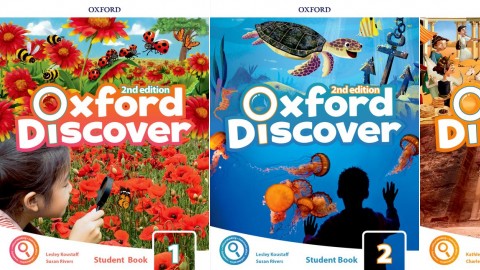 The 2nd edition of Oxford Discover builds on it's tried and tested methodology, developing 21st Century Skills in critical thinking, communication, collaboration and creativity to prepare students for future success at primary school and beyond.
How are seasons different? Which animals live in the wild Who makes you happy?
Oxford Discover uses "Big Questions" like these to tap into children's natural curiosity and enable them to ask their own questions, find their own answers, and explore the world around them.
The course is underpinned by four major 21st Century Skills: critical thinking, communication, collaboration, and creativity ensuring Oxford Discover lays the foundations for success in the 21st Century.
Use with Show and Tell 2nd edition to teach an inquiry-based course from Kindergarten through Primary.
See More:
Oxford Discover (6 Levels)
Updated : 6/5/2021
Ads, Multi Links, Wait Time
Oxford Discover All Levels Extra Materials Updated : 6/5/2021
Oxford Discover All Levels Grammar Books Keys and Teachers Notes Updated : 6/5/2021
Oxford Discover All Levels Parents Pack Updated : 6/5/2021
Oxford Discover All Levels Scope and Sequence Updated : 6/5/2021
Oxford Discover All Levels Writing and Spelling Books Keys and Notes Updated : 6/5/2021
Oxford Discover All Levels Entry Tests

Oxford Discover 2nd Edition Foundations Teachers Guide Updated : 6/5/2021

Oxford Discover 2nd Edition 1 Student's book
Oxford Discover 2nd Edition 1 Workbook
Oxford Discover 2nd Edition 1 Online Practice
Oxford Discover 2nd Edition 1 Grammar Book
Oxford Discover 2nd Edition 1 Teacher's Guide
Oxford Discover 2nd Edition 1 Worksheets
Oxford Discover 2nd Edition 1 Phonics Worksheets
Oxford Discover 2nd Edition 1 Class audio CDs
Oxford Discover 2nd Edition 1 Video
Oxford Discover 2nd Edition 1 Writing and Spelling Book

Oxford Discover 2nd Edition 2 Student's book
Oxford Discover 2nd Edition 2 Workbook
Oxford Discover 2nd Edition 2 Teacher's Guide
Oxford Discover 2nd Edition 2 Class audio CDs
Oxford Discover 2nd Edition 2 Video

Oxford Discover 2nd Edition 3 Student's book
Oxford Discover 2nd Edition 3 Workbook
Oxford Discover 2nd Edition 3 Grammar Book
Oxford Discover 2nd Edition 3 Teacher's Guide
Oxford Discover 2nd Edition 3 Class audio CDs
Oxford Discover 2nd Edition 3 Video

Oxford Discover 2nd edition 4 Student's Book Updated : 5/5/2021
Oxford Discover 2nd edition 4 Class Audio Updated : 6/5/2021
Oxford Discover 2nd edition 4 Workbook Updated : 5/5/2021
Oxford Discover 2nd Edition 4 Teacher's Guide

Oxford Discover 2nd Edition 5 Student's book
Oxford Discover 2nd Edition 5 Workbook
Oxford Discover 2nd Edition 5 Teacher's Guide
Oxford Discover 2nd Edition 5 Class audio CDs
Oxford Discover 2nd Edition 5 Video

Oxford Discover 2nd edition 6 Student's Book Updated : 5/5/2021
Oxford Discover 2nd edition 6 Class Audio Updated : 6/5/2021
Oxford Discover 2nd edition 6 Workbook Updated : 5/5/2021
Oxford Discover 2nd Edition 6 Teacher's Guide

Oxford Discover 1-6 Entry tests