Download Oxford Discover 6 Levels The Full Sets Student's Book + Teacher's Book + Audio CDs + Video DVD.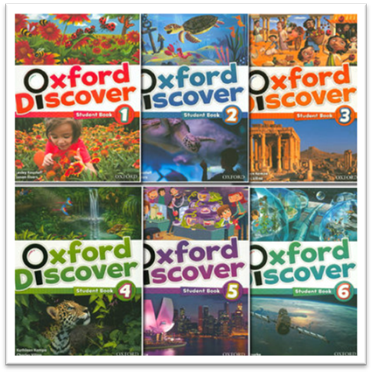 Using an inquiry-based approach to learning, Oxford Discover develops the communication skills and thinking skills students need for success in the 21st century. What is the Earth made of? Why do we like symmetry? How do we use language?
Oxford Discover uses Big Questions such as these to tap into students' natural curiosity. It enables them to ask their own questions, find their own answers, and explore the world around them. This approach to language learning and literacy, supported by a controlled grammar and skills syllabus, helps students achieve near-native fluency in English. Oxford Discover gives teachers the tools to develop children's 21st century skills, creating young thinkers with great futures.
See More:
Oxford Discover, Second Edition
Oxford Discover 1 Student's Book.pdf
Oxford Discover 1 Class CDs AUDIO
Oxford Discover Grammar 1 SB.pdf
Oxford Discover Grammar 1 Answer.Key.pdf
Oxford Discover 1 Grammar Audio
Oxford Discover 1 VIDEO
Oxford Discover 1. Posters
Oxford Discover 1 Picture Cards.pdf
Oxford Discover 1 Workbook.pdf
Oxford Discover 1. Integrated Teaching Toolkit.pdf
Oxford Discover 1. SB keys.pdf
Oxford Discover 1. Writing and Spelling.pdf

Oxford Discover 2 Student's Book.pdf
Oxford Discover 2 Student's Book CD
Oxford Discover 2 Student Book Answer Keys.pdf
Oxford Discover 2 Video
Oxford Discover Grammar 2.pdf
Oxford Discover Grammar 2 Audio
Oxford Discover 2 Integrated Teaching Toolkit.pdf
Oxford Discover 2 Workbook.pdf
Oxford Discover 2. Writing and Spelling.pdf

Oxford Discover 3 Student Book.pdf
Oxford Discover 3 Student's Book CD
Oxford Discover Grammar 3.pdf
Oxford Discover 3 Grammar Book Audio CD
Oxford Discover 3 Big Question DVD
Oxford Discover 3 Writing and Spelling (SB with Answer Key)
Oxford Discover 3 Workbook.pdf
Oxford Discover 3. Integrated Teaching Toolkit.pdf

Oxford Discover 4 Student's Book.pdf
Oxford Discover 4 Student's Book CD
Oxford Discover 4 Big Question DVD
Oxford Discover 4 Grammar. Student's Book.pdf
Oxford Discover 4 Workbook.pdf
Oxford Discover 4. Integrated Teaching Toolkit.pdf

Oxford Discover 5 Student Book.pdf
Oxford Discover 5 Student's Book CD
Oxford Discover 5 Big Question DVD
Oxford Discover 5 Workbook.pdf
Oxford Discover 5 Writing and Spelling.pdf
Oxford Discover 5. Integrated Teaching Toolkit.pdf
Oxford Discover Grammar 5.pdf

Oxford Discover 6 Student's Book.pdf
Oxford Discover 6 Student's Book CD
Oxford Discover 6 Big Question DVD
Oxford Discover 6 Workbook.pdf
Oxford Discover 6. Integrated Teaching Toolkit.pdf
Oxford Discover Grammar 6.pdf

Oxford Discover Foundation Student Book.pdf
Oxford Discover Foundation CD
Oxford Discover Foundation VIDEO
Oxford Discover Foundation Workbook.pdf

Oxford Discover 1-6 Tests
————-
Oxford Discover (1st edition) iTools:
Oxford Discover 1 iTools
Oxford Discover 2 iTools
Oxford Discover 3 iTools
Oxford Discover 4 iTools
Oxford Discover 5 iTools
Oxford Discover 6 iTools