Download Oxford Inside Reading 2nd Edition 2015. Oxford University Press (PDF, Audio CD).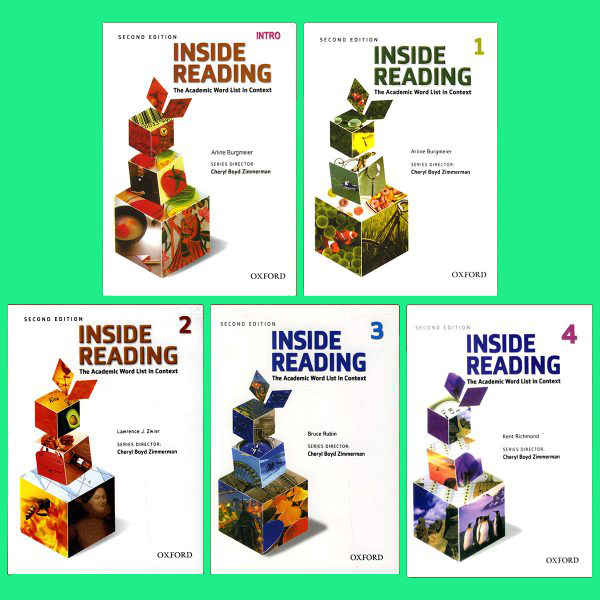 Oxford Inside Reading Second Edition is a five-level academic reading series that develops students' reading skills and teaches key academic vocabulary from the Academic Word List.
With a new Introductory level, Inside Reading Second Edition prepares students to understand academic texts, while acquiring key academic vocabulary from the Academic Word List. Each unit in Inside Reading features two high-interest reading texts from an academic content area, reading skills relevant to the academic lesson, and targeted words from the Academic Word List.
Key Features:
Explicit reading skills, such as inference, working with graphs and tables, annotating and highlighting, and recognizing context clues, provide the foundation for effective, critical reading
High-interest texts from academic content areas, such as psychology, engineering, the arts, technology, and business, motivate students
Systematic acquisition of the entire Academic Word List through targeted receptive and productive activities creates independent word learners
Examples from the Oxford English Corpus teach real-life English
NEW! Introductory level
NEW! Digital Resources for Teachers – iTools digital resources build language proficiency through authentic videos, audio, and whole-class vocabulary activities
NEW e-books with interactive features designed for language learning.
See More:
Inside Writing (5 Levels) Oxford
Inside Listening and Speaking (5 Levels) Oxford

No Ads, 1 Links, No Waiting For Time
Currently the payment gateway is having problems. Please contact us if you need to buy books.

Đối với khách hàng ở Việt Nam: Liên hệ trực tiếp với Admin để thực hiện mua hàng bằng cách chuyển khoản ngân hàng nội địa.
Note:
When using "FAST DOWNLOAD" you will get all the files listed in the "SLOW DOWNLOAD" section.
Password Extract: tienganhedu.com


Frequently asked questions (Q&A)




Contact (Report Broken Link) ---- Copyright Owner (DMCA)