Download Pathways (2nd Edition) National Geographic (PDF, Resources, Classroom Presentation Tool) 2018, American English.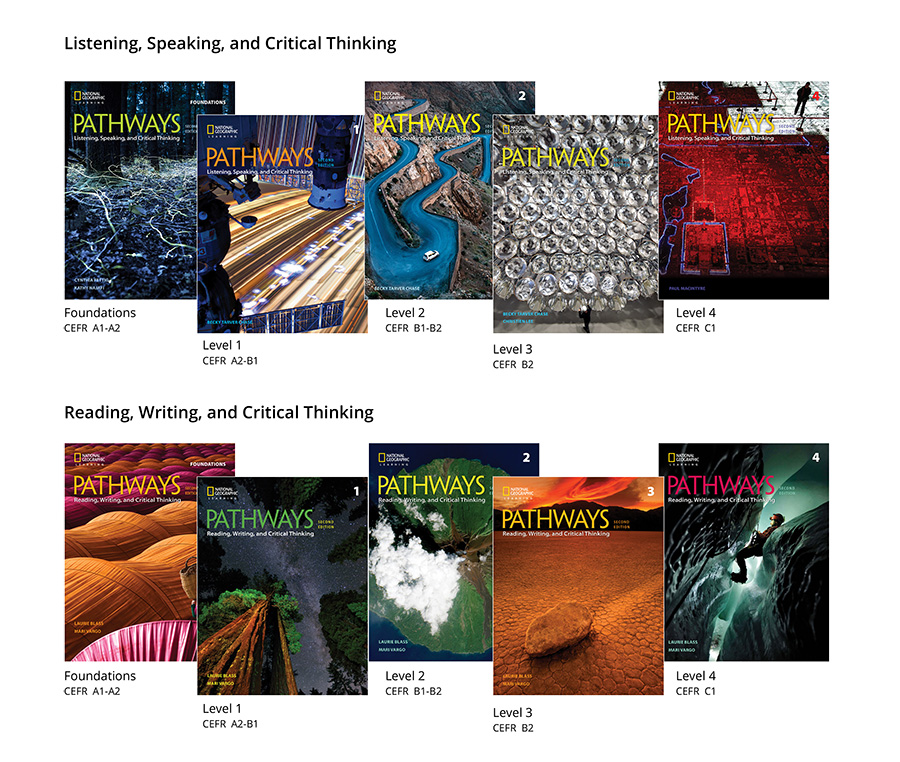 Pathways is National Geographic Learning's new five-level academic skills series that features reading & writing and listening & speaking strands to help learners develop the language skills needed to achieve academic success. Learners develop academic literacy skills through content, images and video from National Geographic. This innovative series provides learners with a pathway to success!
Pathways, Second Edition, is a global, five-level academic English program. Carefully-guided lessons develop the language skills, critical thinking, and learning strategies required for academic success. Using authentic and relevant content from National Geographic, including video, charts, and other infographics, Pathways prepares students to work effectively and confidently in an academic environment. Explicit instruction and practice of note-taking, listening, speaking, grammar, vocabulary, and pronunciation develop language proficiency and build academic skills. Slide shows of lectures and presentations enhance listening activities and develop presentation skills. Exam-style tasks prepare students for a range of international exams, including TOEFL and IELTS.
Key features:
Clear connections between reading and writing skills help students master both skills naturally
Academic reading skills and strategies embedded in the unit tasks prepare students to access a variety of realistic academic texts
Step-by-step writing instruction with integrated grammar and vocabulary provides instruction and practice on a variety of rhetorical forms
Consistent Integrated critical thinking tasks develop learners' ability to evaluate, analyze, and synthesize information from a wide range of sources.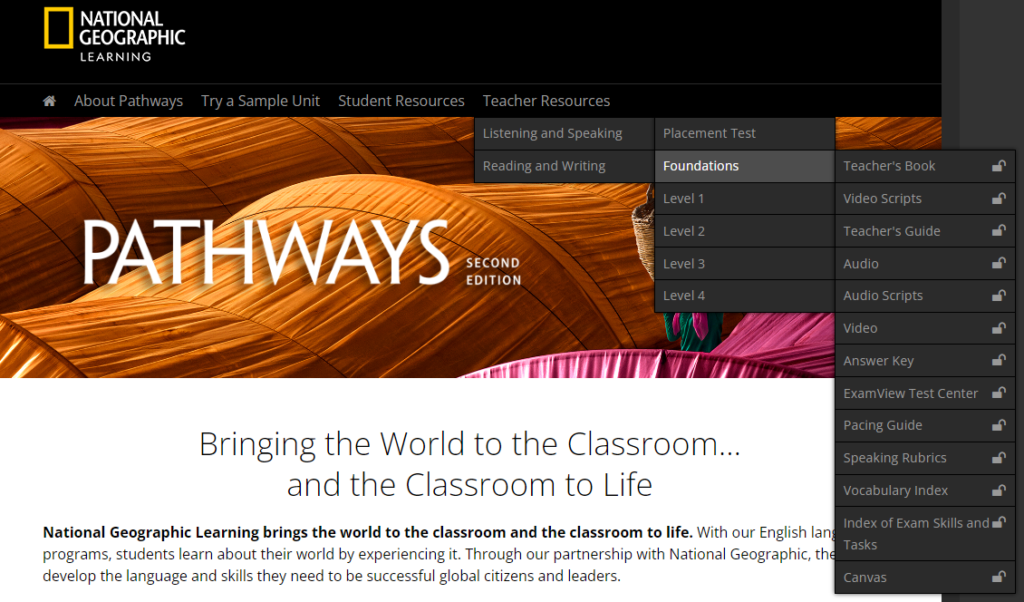 Original PDF, High Quality

Pathways (2e) 5 Levels Listening Speaking and Critical Thinking:
Pathways (2e) Foundation LS and Critical Thinking.pdf
Pathways (2e) Foundation LS and Critical Thinking Teacher's Book.pdf
Pathways (2e) Foundation LS and Critical Thinking Teacher's Resources (Video Scripts, Audio, Audio Scripts, Video, Answer Key, ExamView Test Center, Pacing Guide, Speaking Rubrics, Vocabulary Index, Index of Exam Skills and Tasks, Canvas)

Pathways (2e) 1 LS and Critical Thinking.pdf
Pathways (2e) 1 LS and Critical Thinking Teacher's Book.pdf
Pathways (2e) 1 LS and Critical Thinking Teacher's Resources (Video Scripts, Audio, Audio Scripts, Video, Answer Key, ExamView Test Center, Pacing Guide, Speaking Rubrics, Vocabulary Index, Index of Exam Skills and Tasks, Canvas)

Pathways (2e) 2 LS and Critical Thinking.pdf
Pathways (2e) 2 LS and Critical Thinking Teacher's Book.pdf
Pathways (2e) 2 LS and Critical Thinking Teacher's Resources (Video Scripts, Audio, Audio Scripts, Video, Answer Key, ExamView Test Center, Pacing Guide, Speaking Rubrics, Vocabulary Index, Index of Exam Skills and Tasks, Canvas)

Pathways (2e) 3 LS and Critical Thinking.pdf
Pathways (2e) 3 LS and Critical Thinking Teacher's Book.pdf
Pathways (2e) 3 LS and Critical Thinking Teacher's Resources (Video Scripts, Audio, Audio Scripts, Video, Answer Key, ExamView Test Center, Pacing Guide, Speaking Rubrics, Vocabulary Index, Index of Exam Skills and Tasks, Canvas)

Pathways (2e) 4 LS and Critical Thinking.pdf
Pathways (2e) 4 LS and Critical Thinking Teacher's Book.pdf
Pathways (2e) 4 LS and Critical Thinking Teacher's Resources (Video Scripts, Audio, Audio Scripts, Video, Answer Key, ExamView Test Center, Pacing Guide, Speaking Rubrics, Vocabulary Index, Index of Exam Skills and Tasks, Canvas)
—-
Pathways (2e) 5 Levels Reading, Writing and Critical Thinking:
Pathways (2e) Foundation RW and Critical Thinking.pdf
Pathways (2e) Foundation RW and Critical Thinking Teacher's Book.pdf
Pathways (2e) Foundation RW and Critical Thinking Teacher's Resources (Answer key, Audio, Video, Video Scripts, ExamView Test Center, Pacing Guide, Writing Rubrics, Vocabulary Index, Index of Exam Skills and Tasks, Canvas, Graphic Organizers)

Pathways (2e) 1 RW and Critical Thinking.pdf
Pathways (2e) 1 RW and Critical Thinking Teacher's Book.pdf
Pathways (2e) 1 RW and Critical Thinking Teacher's Resources (Answer key, Audio, Video, Video Scripts, ExamView Test Center, Pacing Guide, Writing Rubrics, Vocabulary Index, Index of Exam Skills and Tasks, Canvas, Graphic Organizers)

Pathways (2e) 2 RW and Critical Thinking.pdf
Pathways (2e) 2 RW and Critical Thinking Teacher's Book.pdf
Pathways (2e) 2 RW and Critical Thinking Teacher's Resources (Answer key, Audio, Video, Video Scripts, ExamView Test Center, Pacing Guide, Writing Rubrics, Vocabulary Index, Index of Exam Skills and Tasks, Canvas, Graphic Organizers)

Pathways (2e) 3 RW and Critical Thinking.pdf
Pathways (2e) 3 RW and Critical Thinking Teacher's Book.pdf
Pathways (2e) 3 RW and Critical Thinking Teacher's Resources (Answer key, Audio, Video, Video Scripts, ExamView Test Center, Pacing Guide, Writing Rubrics, Vocabulary Index, Index of Exam Skills and Tasks, Canvas, Graphic Organizers)

Pathways (2e) 4 RW and Critical Thinking.pdf
Pathways (2e) 4 RW and Critical Thinking Teacher's Book.pdf
Pathways (2e) 4 RW and Critical Thinking Teacher's Resources (Answer key, Audio, Video, Video Scripts, ExamView Test Center, Pacing Guide, Writing Rubrics, Vocabulary Index, Index of Exam Skills and Tasks, Canvas, Graphic Organizers)
—
Pathway (2e) 5 Level LS+RW Classroom Presentation Tool (Windows):
Pathway (2e) LS Foundation Classroom Presentation Tool (Windows)
Pathway (2e) LS 1 Classroom Presentation Tool (Windows)
Pathway (2e) LS 2 Classroom Presentation Tool (Windows)
Pathway (2e) LS 3 Classroom Presentation Tool (Windows)
Pathway (2e) LS 4 Classroom Presentation Tool (Windows)
Pathway (2e) RW Foundation Classroom Presentation Tool (Windows)
Pathway (2e) RW 1 Classroom Presentation Tool (Windows)
Pathway (2e) RW 2 Classroom Presentation Tool (Windows)
Pathway (2e) RW 3 Classroom Presentation Tool (Windows)
Pathway (2e) RW 4 Classroom Presentation Tool (Windows)