Download Great Writing, 5th Edition – National Geographic Learning. Now in the fifth edition, Great Writing is a six-level series that helps students develop their academic writing with expanded vocabulary building, sentence development, and National Geographic content to spark ideas.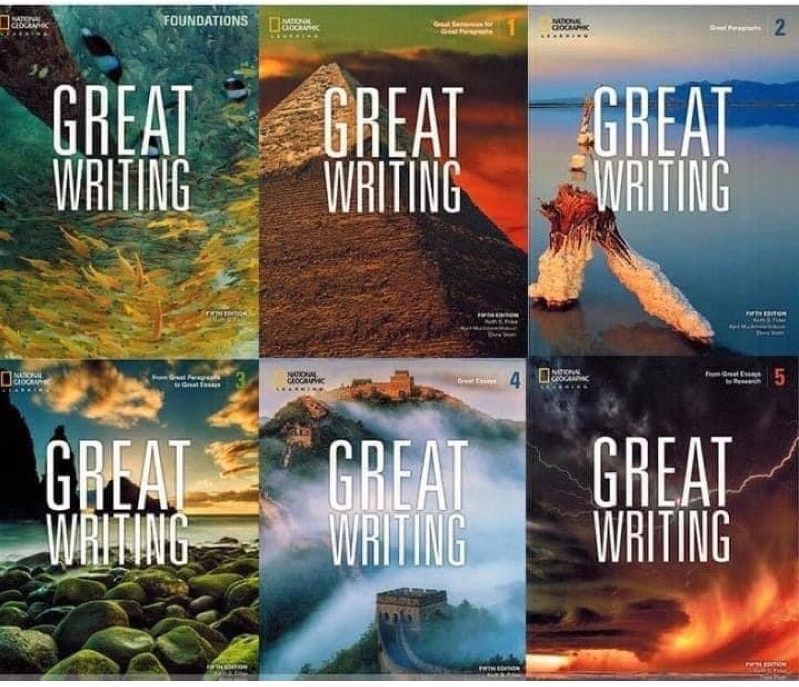 Great Writing provides clear explanations, academic writing models, and focused practice to help students write great sentences, paragraphs, and essays.
A new unit structure offers students the targeted practice and skills they need to become competent writers
Updated Building Better Sentences starts with editing and finishes with sentence combining for more refined writing
Updated Building Better Vocabulary highlights academic words and gives many opportunities to practice
New Words to Know boxes highlight academic and carefully-leveled words that students will frequently use
Good quality material .
Download the sample to your device to preview.
Great Writing (5e) 6 Levels Classroom Presentation Tool Windows
Great Writing (5e) 6 Levels Classroom Presentation Tool MAC

Great Writing 5e Foundations Student's Book.pdf
Great Writing 5e Foundations Student's Book Audio.zip
Great Writing 5e Foundations Test Bank.zip
Great Writing 5e Foundations ExamView Test.zip
Great Writing 5e Foundations Writer's Handbook.pdf
Great Writing 5e Foundations Teacher's Notes.pdf
Great Writing 5e Foundations Peer Editing Form.pdf
Great Writing 5e Foundations Answer Key.pdf
Great Writing 5e Foundations ExamView_Content_Installer_Mac_11.7.0.1.zip
Great Writing 5e Foundations ExamView_Content_Windows_11.5.1.2.zip

Great Writing 5e 2 Student's Book.pdf
Great Writing 5e 2 Answer Key.pdf
Great Writing 5e 2 Teachers Notes.pdf
Great Writing 5e 2 Peer Editing Forms
Great Writing 5e 2 Tests and Answer Keys.zip
Great Writing 5e 2 Writer's Handbook.pdf
Great Writing 5e 2 Vocabulary Index.pdf
Great Writing 5e 2 ExamView_Content_Windows_11.5.1.2.zip
Great Writing 5e 2 ExamView_Content_Installer_Mac_11.6.0.12.zip

Great Writing 5e 2 Student's Book.pdf
Great Writing 5e 2 Answer Key.pdf
Great Writing 5e 2 Teachers Notes.pdf
Great Writing 5e 2 Peer Editing Forms
Great Writing 5e 2 Tests and Answer Keys.zip
Great Writing 5e 2 Writer's Handbook.pdf
Great Writing 5e 2 Vocabulary Index.pdf
Great Writing 5e 2 ExamView_Content_Windows_11.5.1.2.zip
Great Writing 5e 2 ExamView_Content_Installer_Mac_11.6.0.12.zip

Great Writing 5e 3 Student's Book.pdf
Great Writing 5e 3 Answer Key.pdf
Great Writing 5e 3 Teachers Notes.pdf
Great Writing 5e 3 Peer Editing Forms
Great Writing 5e 3 Tests and Answer Keys.zip
Great Writing 5e 3 Writer's Handbook.pdf
Great Writing 5e 3 Vocabulary Index.pdf
Great Writing 5e 3 ExamView_Content_Windows_11.5.1.2.zip
Great Writing 5e 3 ExamView_Content_Installer_Mac_11.6.0.12.zip

Great Writing 5e 4 Student's Book.pdf
Great Writing 5e 4 Answer Key.pdf
Great Writing 5e 4 Teachers Notes.pdf
Great Writing 5e 4 Peer Editing Forms
Great Writing 5e 4 Tests and Answer Keys.zip
Great Writing 5e 4 Writer's Handbook.pdf
Great Writing 5e 4 Vocabulary Index.pdf
Great Writing 5e 4 ExamView_Content_Windows_11.5.1.2.zip
Great Writing 5e 4 ExamView_Content_Installer_Mac_11.6.0.12.zip

Great Writing 5e 5 Student's Book.pdf
Great Writing 5e 5 Teachers Notes.pdf
Great Writing 5e 5 Vocabulary Index.pdf
Great Writing 5e 5 Test Bank Files.zip
Great Writing 5e 5 Tests and Answer Keys.zip
Great Writing 5e 5 Peer Editing Forms
Great Writing 5e 5 Writer's Handbook.pdf
Great Writing 5e 5 Answer Key.pdf
Great Writing 5e 5 ExamView_Content_Windows_11.5.1.2.zip
Great Writing 5e 5 ExamView Content_Installer_Mac_11.7.0.1.zip

Great Writing 5e ExamView_To the Teacher.pdf
Creating Tests with Great Writing 5e ExamView.pdf