Download Q Skills for Success 3rd edition (PDF, Audio, Video) Reading and Writing, Listening and Speaking.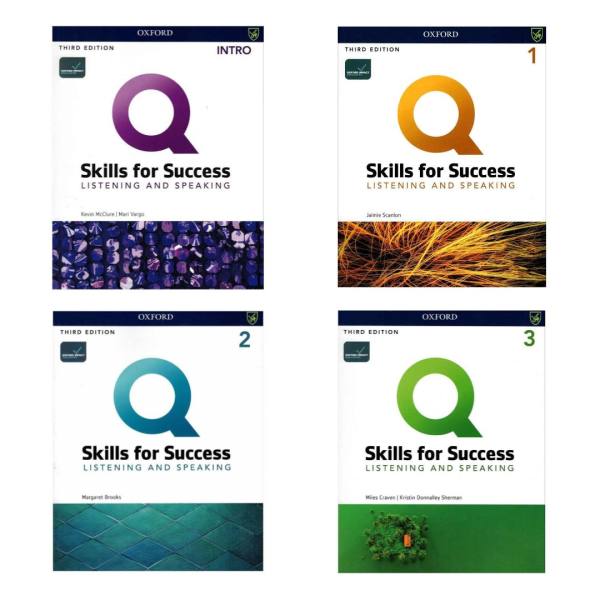 Q: Skills for Success Third Edition builds on its question-centered approach to help students achieve academic success. 90% of teachers believe that Q: Skills for Success has played a significant part in improving the skills their students need for academic study.
Q: Skills for Success is renowned for helping students to achieve academic success in English.
The Third Edition helps students to develop the techniques and critical thinking skills they need for academic study with new Critical Thinking Strategies, updated texts and topics and 100% new assessment.
Q Skills for Success 3rd edition Reading and Writing Intro Student's Book.pdf
Q Skills for Success 3rd edition Reading and Writing Intro Audio
Q Skills for Success 3rd edition Reading and Writing Intro Video
Q Skills for Success 3rd edition Reading and Writing Intro Sources
Q Skills for Success 3rd edition Reading and Writing Intro Teachers Handbook.pdf
Q Skills for Success 3rd edition Listening and Speaking Intro Student's Book.pdf
Q Skills for Success 3rd edition Listening and Speaking Intro Audio
Q Skills for Success 3rd edition Listening and Speaking Intro Video
Q Skills for Success 3rd edition Listening and Speaking Intro Sources
Q Skills for Success 3rd edition Listening and Speaking Intro Teachers Handbook.pdf
—
Q Skills for Success 3rd edition Reading and Writing 1 Student's Book.pdf
Q Skills for Success 3rd edition Reading and Writing 1 Audio
Q Skills for Success 3rd edition Reading and Writing 1 Video
Q Skills for Success 3rd edition Reading and Writing 1 Sources
Q Skills for Success 3rd edition Reading and Writing 1 Teachers Handbook.pdf
Q Skills for Success 3rd edition Listening and Speaking 1 Student's Book.pdf
Q Skills for Success 3rd edition Listening and Speaking 1 Audio
Q Skills for Success 3rd edition Listening and Speaking 1 Video
Q Skills for Success 3rd edition Listening and Speaking 1 Sources
Q Skills for Success 3rd edition Listening and Speaking 1 Teachers Handbook.pdf
—
Q Skills for Success 3rd edition Reading and Writing 2 Student's Book.pdf
Q Skills for Success 3rd edition Reading and Writing 2 Audio
Q Skills for Success 3rd edition Reading and Writing 2 Video
Q Skills for Success 3rd edition Reading and Writing 2 Sources
Q Skills for Success 3rd edition Reading and Writing 2 Teachers Handbook.pdf
Q Skills for Success 3rd edition Listening and Speaking 2 Student's Book.pdf
Q Skills for Success 3rd edition Listening and Speaking 2 Audio
Q Skills for Success 3rd edition Listening and Speaking 2 Video
Q Skills for Success 3rd edition Listening and Speaking 2 Sources
Q Skills for Success 3rd edition Listening and Speaking 2 Teachers Handbook.pdf
—
Q Skills for Success 3rd edition Reading and Writing 3 Student's Book.pdf
Q Skills for Success 3rd edition Reading and Writing 3 Audio
Q Skills for Success 3rd edition Reading and Writing 3 Video
Q Skills for Success 3rd edition Reading and Writing 3 Sources
Q Skills for Success 3rd edition Reading and Writing 3 Teachers Handbook.pdf
Q Skills for Success 3rd edition Listening and Speaking 3 Student's Book.pdf
Q Skills for Success 3rd edition Listening and Speaking 3 Audio
Q Skills for Success 3rd edition Listening and Speaking 3 Video
Q Skills for Success 3rd edition Listening and Speaking 3 Sources
Q Skills for Success 3rd edition Listening and Speaking 3 Teachers Handbook.pdf
—
Q Skills for Success 3rd edition Reading and Writing 4. Teacher's Handbook.pdf
Q Skills for Success 3rd edition Listening and Speaking 4. Teacher's Handbook.pdf
Q Skills for Success 3rd edition Reading and Writing 5. Teacher's Handbook.pdf
Q Skills for Success 3rd edition Listening and Speaking 5. Teacher's Handbook.pdf