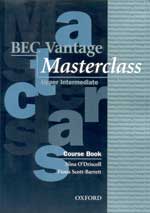 A new addition to the Masterclass series providing preparation for the revised Cambridge Business English Certificate (BEC) Vantage examination.
Overview:
BEC Vantage is ideal for pre-service and in-service learners. The course has a practical approach and is suitable for classroom use or self-study.
Who is it for?
Professionals already in business or at the beginning of their business career.
Pre-service students preparing for work in a business environment.
Key features:
Focus on training rather than testing.
Extensive practice of tasks and text types in the exam.
A separate exam information section providing a suggested task procedure and general exam tips.
A grammar reference, business glossary, and tapescripts in the Student's Book.
Unit tests, progress tests, and photocopiable material available online
FAST DOWNLOAD (No Ads, 1 Links)
SLOWDOWNLOAD (Ads, Multi Links)

Free download is hidden due to the owner's request

BEC Vantage Masterclass Student's Book (PDF)