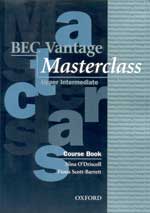 A new addition to the Masterclass series providing preparation for the revised Cambridge Business English Certificate (BEC) Vantage examination.
Overview:
BEC Vantage is ideal for pre-service and in-service learners. The course has a practical approach and is suitable for classroom use or self-study.
Who is it for?
Professionals already in business or at the beginning of their business career.
Pre-service students preparing for work in a business environment.
Key features:
Focus on training rather than testing.
Extensive practice of tasks and text types in the exam.
A separate exam information section providing a suggested task procedure and general exam tips.
A grammar reference, business glossary, and tapescripts in the Student's Book.
Unit tests, progress tests, and photocopiable material available online
FAST DOWNLOAD (No Ads, 1 Links)
SLOWDOWNLOAD (Ads, Multi Links)

Free download is hidden due to the owner's request

BEC Vantage Masterclass Student's Book (PDF)
Currently the payment gateway is having problems. Please contact us if you need to buy books.

Đối với khách hàng ở Việt Nam: Liên hệ trực tiếp với Admin để thực hiện mua hàng bằng cách chuyển khoản ngân hàng nội địa.
Note:
When using "FAST DOWNLOAD" you will get all the files listed in the "SLOW DOWNLOAD" section.
Password Extract: tienganhedu.com


Frequently asked questions (Q&A)




Contact (Report Broken Link) ---- Copyright Owner (DMCA)