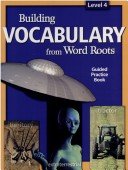 Building Vocabulary from Word Roots helps students unlock the meaning of over 60% of the words they encounter in the classroom and beyond with a systematic approach to teaching vocabulary using Greek and Latin prefixes, bases, and suffixes. Students are introduced to one new root per lesson with daily activities to ensure that they learn the root and the many English words it generates, and learn strategies for deciphering words and their meaning across all content areas.
[affegg id=164]
Currently the payment gateway is having problems. Please contact us if you need to buy books.

Đối với khách hàng ở Việt Nam: Liên hệ trực tiếp với Admin để thực hiện mua hàng bằng cách chuyển khoản ngân hàng nội địa.
Note:
When using "FAST DOWNLOAD" you will get all the files listed in the "SLOW DOWNLOAD" section.
Password Extract: tienganhedu.com


Frequently asked questions (Q&A)




Contact (Report Broken Link) ---- Copyright Owner (DMCA)