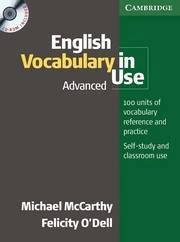 – Là 1 trong 3 quyển vocabulary của Cambride
– 15 mục với các chủ đề khác nhau sẽ giúp các bạn mở rộng từ mới về nhiều chuyên mục hơn
– Bài tập đa dạng ví dụ sinh động và đồng thời có key cho bài tập để các bạn có thể so sánh
– Quyền này dành cho những bạn thi IELTS 7.0 trở lên vì advanced mà.
Currently the payment gateway is having problems. Please contact us if you need to buy books.

Đối với khách hàng ở Việt Nam: Liên hệ trực tiếp với Admin để thực hiện mua hàng bằng cách chuyển khoản ngân hàng nội địa.
Note:
When using "FAST DOWNLOAD" you will get all the files listed in the "SLOW DOWNLOAD" section.
Password Extract: tienganhedu.com


Frequently asked questions (Q&A)




Contact (Report Broken Link) ---- Copyright Owner (DMCA)