Download Got It! – 2nd edition (4 levels) PDF, Audio, Video, ITools. Oxford University Press, 2015.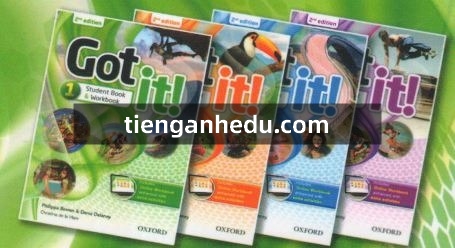 A four-level American English course for secondary learners with outstanding print and digital resources and particular emphasis on meaningful communication and skills development. Through a comprehensive and innovative range of resources, Got it! uses hands-on language presentations to help students discover language intuitively and try out new structures. Through personalization and dialogue they explore meaning in a framework of issues which engage them. Competence in individual skills and awareness of progress and success are encouraged throughout. Available as an in-App purchase via the Oxford Learner's Bookshelf app.
Got it! Second Edition retains the tried and tested formula of the first edition with 100% new content. Language is presented in context at the start of every unit in a photo-story in the lower levels and in an interesting, teen-appropriate text in higher levels. The guided discovery approach to grammar encourages students to reflect on the language they are learning and supports autonomous learning.
PDF (Scan) normal quality

Download the sample to your device to preview.
Got It! (2e) 4 Levels (PDF, Audio, Video):
Got It! (2e) Level StarterA Student's Book + Workbook.pdf
Got It! (2e) Level StarterB Student's Book + Workbook.pdf
Got It! (2e) Level Starter Teacher's Book.pdf
Got It! (2e) Level Starter Audio
Got It! (2e) Level Starter Video
—
Got It! (2e) Level 1A Student's Book + Workbook.pdf
Got It! (2e) Level 1B Student's Book + Workbook.pdf
Got It! (2e) Level 1 Teacher's Book.pdf
Got It! (2e) Level 1 Audio
Got It! (2e) Level 1 Video
—
Got It! (2e) Level 2A Student's Book + Workbook.pdf
Got It! (2e) Level 2B Student's Book + Workbook.pdf
Got It! (2e) Level 2 Teacher's Book.pdf
Got It! (2e) Level 2 Audio
Got It! (2e) Level 2 Video
—
Got It! (2e) Level 3A Student's Book + Workbook.pdf
Got It! (2e) Level 3B Student's Book + Workbook.pdf
Got It! (2e) Level 3 Teacher's Book.pdf
Got It! (2e) Level 3 Audio
Got It! (2e) Level 3 Video
———————
Got It! (2e) 4 Levels ITools (Windows):
Got It! (2e) Level Starter ITools
Got It! (2e) Level 1 ITools
Got It! (2e) Level 2 ITools
Got It! (2e) Level 3 ITools