Download
Cutting Edge Third 3rd Edition by Pearson
Longman 2013 – 2014 (PDF, Audio, Video, Tests, ActiveTeach,…) .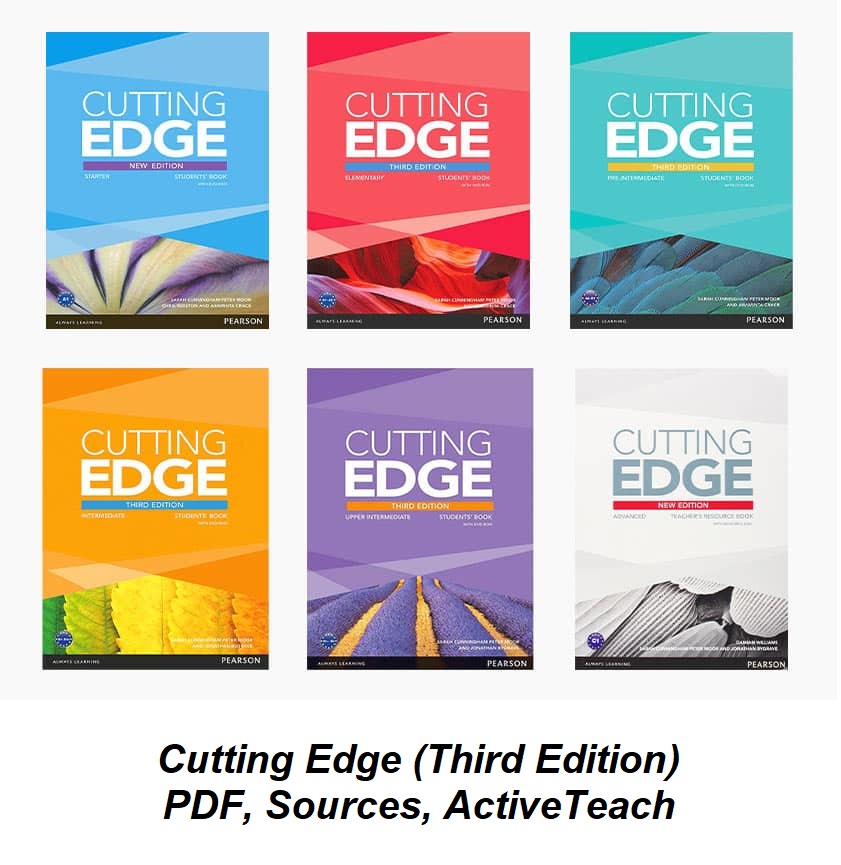 Guide, Discover and Inspire with Cutting Edge 3 Third edition!

– Guide. The task-based approach benefits learners by focusing them directly on the skills area they need to practice. This enables them to improve their learning outcomes and have a sense of achievement. First, students learn from the models and then they are encouraged to do the task themselves in the safe environment of the classroom. This builds learners' confidence and gives them a sense of achievement.

– Discover real-life functional language through DVD or audio clips. The language is presented in contexts and situations that students come across in everyday life.

– Inspire. World Culture lessons encourage students to investigate global issues and actively participate in classroom discussions.
What's special about New Cutting Edge?

The new editions contain all the ingredients that made the original edition so popular – a thorough grammar syllabus, plenty of vocabulary work and engaging speaking tasks. Based on feedback from teachers around the world, the new editions have been thoroughly updated with new texts and tasks, additional practice material and a whole range of other exciting features.

– Challenge your students with the new 'Study, Practice, Remember' sections
– Motivate your students with the new self-study CD-ROMs which provide additional grammar and vocabulary practice, plus 'Real life' video sequences
– Engage your students with New Cutting Edge Digital – exciting new software for the interactive whiteboard.
New World culture lessons encourage the exploration of contemporary topics and develop online research skills. Language live lessons provide light-hearted contexts for practicing functional language and writing.
Engaging texts, new video content and a comprehensive digital package are just some of the features that make this fully revised edition even more effective.
The DVD-ROM contains all the audio and video clips and a digital Mini dictionary of key vocabulary.
The ActiveTeach disc contains everything a teacher will need for the course in the classroom. It can be used with a computer and a projector or with an interactive whiteboard.
It includes:
– All the audio and video from the book;
– All the pages with a 'zoom in' and 'zoom out' feature;
– The ability to show and hide answers;
– Fully functional IWB tools;
– A facility to save all your notes alongside the relevant page of the Students' Book;
– Extra resources including games and activities.
Student's Book (Original PDF, High Quality)
Demo (Sample Page)
Workbook (Scan, Normal quality)


Cutting Edge (Third Edition) 6 Levels PDF, Sources:
Cutting Edge 3d Edition Starter Student's book.pdf
Cutting Edge 3d Edition Starter Workbook.pdf
Cutting Edge 3d Edition Starter Student's book Audio
Cutting Edge 3d Edition Starter Workbook Audio CD
Cutting Edge 3d Edition Starter Teacher's Book.pdf
Cutting Edge 3d Edition Starter Photocopiables
Cutting Edge 3d Edition Starter Tests
Cutting Edge 3d Edition Starter Video
Cutting Edge 3d Edition Starter GSE mapping booklet
—–
Cutting Edge 3d Edition Elementary Student's book.pdf
Cutting Edge 3d Edition Elementary Workbook.pdf
Cutting Edge 3d Edition Elementary Student's book Audio
Cutting Edge 3d Edition Elementary Workbook Audio CD
Cutting Edge 3d Edition Elementary Teacher's Book.pdf
Cutting Edge 3d Edition Elementary Photocopiables
Cutting Edge 3d Edition Elementary Tests
Cutting Edge 3d Edition Elementary Video
Cutting Edge 3d Edition Elementary GSE mapping booklet
Cutting Edge 3d Edition Elementary Wordlist
—–
Cutting Edge 3d Edition Pre-Intermediate Student's book.pdf
Cutting Edge 3d Edition Pre-Intermediate Workbook.pdf
Cutting Edge 3d Edition Pre-Intermediate Student's book Audio
Cutting Edge 3d Edition Pre-Intermediate Workbook Audio CD
Cutting Edge 3d Edition Pre-Intermediate Teacher's Book.pdf
Cutting Edge 3d Edition Pre-Intermediate Photocopiables
Cutting Edge 3d Edition Pre-Intermediate Tests
Cutting Edge 3d Edition Pre-Intermediate Video
Cutting Edge 3d Edition Pre-Intermediate GSE mapping booklet
Cutting Edge 3d Edition Pre-Intermediate Wordlist
—–
Cutting Edge 3d Edition Intermediate Student's book.pdf
Cutting Edge 3d Edition Intermediate Workbook.pdf
Cutting Edge 3d Edition Intermediate Student's book Audio
Cutting Edge 3d Edition Intermediate Workbook Audio CD
Cutting Edge 3d Edition Intermediate Teacher's Book.pdf
Cutting Edge 3d Edition Intermediate Photocopiables
Cutting Edge 3d Edition Intermediate Tests
Cutting Edge 3d Edition Intermediate Video
Cutting Edge 3d Edition Intermediate GSE mapping booklet
Cutting Edge 3d Edition Intermediate Wordlist
—–
Cutting Edge 3d Edition Upper-Intermediate Student's book.pdf
Cutting Edge 3d Edition Upper-Intermediate Workbook.pdf
Cutting Edge 3d Edition Upper-Intermediate Student's book Audio
Cutting Edge 3d Edition Upper-Intermediate Workbook Audio CD
Cutting Edge 3d Edition Upper-Intermediate Teacher's Book.pdf
Cutting Edge 3d Edition Upper-Intermediate Photocopiables
Cutting Edge 3d Edition Upper-Intermediate Tests
Cutting Edge 3d Edition Upper-Intermediate Video
Cutting Edge 3d Edition Upper-Intermediate GSE mapping booklet
Cutting Edge 3d Edition Upper-Intermediate Wordlist
—–
Cutting Edge 3d Edition Advanced Student's book.pdf
Cutting Edge 3d Edition Advanced Workbook.pdf
Cutting Edge 3d Edition Advanced Student's book Audio
Cutting Edge 3d Edition Advanced Workbook Audio CD
Cutting Edge 3d Edition Advanced Teacher's Book.pdf
Cutting Edge 3d Edition Advanced Photocopiables
Cutting Edge 3d Edition Advanced Tests
Cutting Edge 3d Edition Advanced Video
Cutting Edge 3d Edition Advanced GSE mapping booklet
Cutting Edge 3d Edition Advanced Wordlist
———————
Cutting Edge (Third Edition) 6 Levels ActiveTeach – Windows, MAC:
Cutting Edge 3d Edition Starter ActiveTeach
Cutting Edge 3d Edition Elementary ActiveTeach
Cutting Edge 3d Edition Pre-Intermediate ActiveTeach
Cutting Edge 3d Edition Intermediate ActiveTeach
Cutting Edge 3d Edition Upper-Intermediate ActiveTeach
Cutting Edge 3d Edition Advanced ActiveTeach