New Total English – Pearson Longman 2011 (PDF, Mp3, CD-exe, Flv).  Author: Jonathan Bygrave, Antonia Clare, Anthony Cosgrove, Araminta Crace, Mark Foley, Fiona Gallagher, Diane Hall, Will Moreton, Diane Naughton, Irene Ofteringer, Rachael Roberts, J Wilson.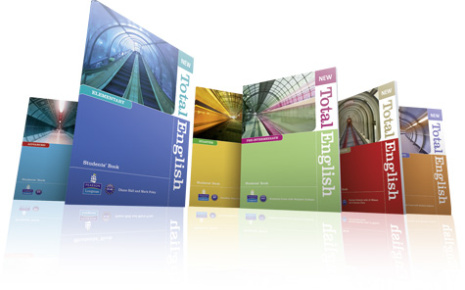 New Total English builds on the popular features of the original edition including:
– Clearly defined CEF-related goals and objectives for each lesson
– brand new texts and DVD clips
– a completely revised grammar syllabus
– new photos and contemporary design which make the course easy to navigate
– now available with MyEnglishLab for blended learning.
The New Total English Flexi Course Book is ideal for short courses and includes the Workbook in the back of the book.
ActivEbook is the Students' book in digital format with integrated audio and video from the course and is included with the Flexi Course Book
New Total English retains all the popular features of the original edition including clear CEF-related objectives which make lesson planning easy. There is a solid grammar syllabus with regular Active Grammar boxes and Reference and Review sections. It also has a strong focus on vocabulary with attention to collocations and now includes an on-line Vocabulary Trainer.
ActiveTeach disc contains everything you need for New Total English in the classroom. It can be used with a computer and a projector or with an interactive whiteboard.
It includes:
– All the audio and video from the book;
– All the pages with a 'zoom in' and 'zoom out' feature;
– The ability to show and hide answers;
– Fully functional IWB tools;
– A facility to save all your notes alongside the relevant page of the Students' Book;
– Extra resources.
New Total English Starter Student's book
New Total English Starter Audio CD's
New Total English Starter Wordlist
New Total English Starter Teacher's Book
New Total English Starter Video

New Total English Elementary Student's book
New Total English Elementary Audio CD's
New Total English Elementary Workbook
New Total English Elementary Workbook CD
New Total English Elementary Teacher's Book
New Total English Elementary Teacher's Resource CD
New Total English Elementary Video

New Total English Pre-Intermediate Student's book
New Total English Pre-Intermediate Audio CD's
New Total English Pre-Intermediate Workbook
New Total English Pre-Intermediate Workbook Answer Key
New Total English Pre-Intermediate Workbook CD
New Total English Pre-Intermediate Teacher's Book
New Total English Pre-Intermediate Teacher's Resource CD
New Total English Pre-Intermediate Video
New Total English Pre-Intermediate Extra

New Total English Intermediate Student's book
New Total English Intermediate Audio CD's
New Total English Intermediate Workbook
New Total English Intermediate Workbook CD
New Total English Intermediate Teacher's Book
New Total English Intermediate Teacher's Resource CD
New Total English Intermediate Video
New Total English Intermediate Extra

New Total English Upper-Intermediate Student's book
New Total English Upper-Intermediate Audio CD's
New Total English Upper-Intermediate Workbook
New Total English Upper-Intermediate Workbook CD
New Total English Upper-Intermediate Teacher's Book
New Total English Upper-Intermediate Teacher's Resource CD
New Total English Upper-Intermediate Video
New Total English Upper-Intermediate Extra

New Total English Advanced Student's book
New Total English Advanced Audio CD's
New Total English Advanced Workbook
New Total English Advanced Workbook Audio CD
New Total English Advanced Teacher's Resource CD
New Total English Advanced Teacher's Book
New Total English Advanced Video
————
New Total English Starter ActiveTeach
New Total English Elementary ActiveTeach
New Total English Pre-Intermediate ActiveTeach
New Total English Intermediate ActiveTeach
New Total English Upper-Intermediate ActiveTeach
New Total English Advanced ActiveTeach