Download Interchange English Course by Cambridge 5th Editions. Author: Jack C. Richards, Jonathan Hull, Susan Proctor, 2017 (MP3, PDF, CD-EXE, FLV) Presentation Plus Software.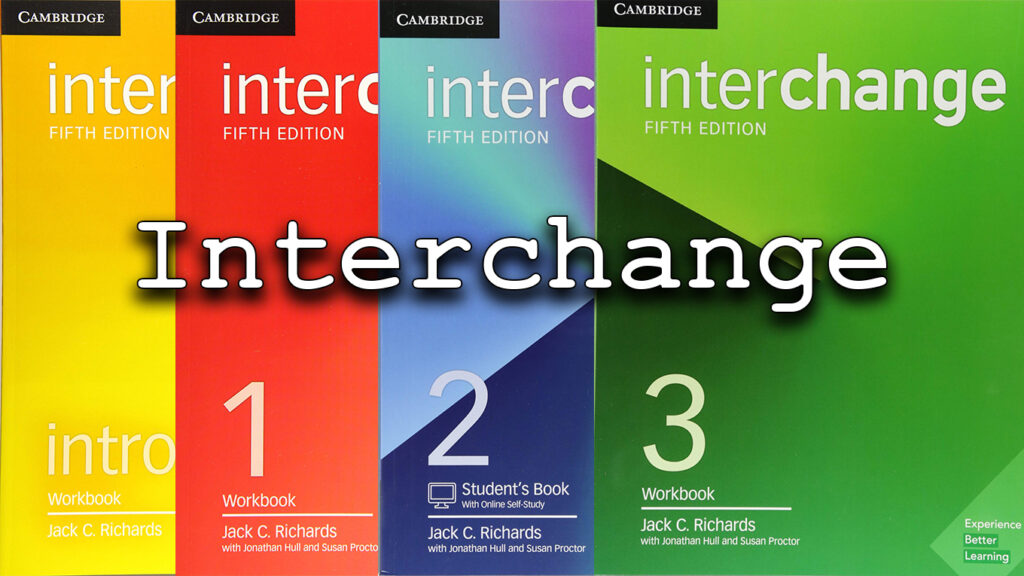 Teach with confidence, using the world's favorite English course.
Interchange is a four-level, American English course that has been used by over 50 million students worldwide. This edition has been developed with insights from thousands of experienced teachers. The series delivers a communicative approach, flexible unit structure and easy to use digital support, giving teachers the tools they need, and empowering students to achieve their goals. Teachers choose Interchange because it works.
Good quality material. Download the sample to your device to preview.
Interchange (5e) 4 Levels PDF, Sources:
Interchange (5e) Intro Student's book.pdf
Interchange (5e) Intro Classroom Audio.zip
Interchange (5e) Intro Workbook.pdf
Interchange (5e) Intro Teachers Book.pdf
Interchange (5e) Intro Assessment.zip
Interchange (5e) Intro Video Resource Book.pdf
Interchange (5e) Intro Video
—
Interchange (5e) 1 Student's book.pdf
Interchange (5e) 1 Classroom Audio
Interchange (5e) 1 Worksheets. Units 1-8
Interchange (5e) 1 Workbook.pdf
Interchange (5e) 1 Teachers Book.pdf
Interchange (5e) 1 Assessment.zip
Interchange (5e) 1 Video Resource Book.pdf
Interchange (5e) 1 Video
—
Interchange (5e) 2. Student's Book.pdf
Interchange (5e) 2 Classroom Audio
Interchange (5e) 2A Student's book.pdf
Interchange (5e) 2. WorkBook.pdf
Interchange (5e) 2A Workbook
Interchange (5e) 2 Teachers Book 
Interchange (5e) 2 Assessment Tests and Quizzes
Interchange (5e) 2 Video Resource Book.pdf
Interchange (5e) 2 Video
—
Interchange (5e) 3 Student's Book.pdf
Interchange (5e) 3 Classroom Audio
Interchange (5e) 3A Student's book.pdf
Interchange (5e) 3 WorkBook.pdf
Interchange (5e) 3A Workbook
Interchange (5e) 3 Teachers Book 
Interchange (5e) 3 Assessment Tests and Quizzes
Interchange (5e) 3 Video Resource Book.pdf
Interchange (5e) 3 Video
—
Interchange Passages Placement Testing Program
————–
Interchange (5e) 4 Levels Presentation Plus (Windows OS):
Interchange (5e) Presentation Plus Intro (Windows)
Interchange (5e) Presentation Plus 1 (Windows)
Interchange (5e) Presentation Plus 2 (Windows)
Interchange (5e) Presentation Plus 3 (Windows)
—
Interchange (5e) 4 Levels Presentation Plus (Mac OS):
Interchange (5e) Presentation Plus Intro (Mac OS)
Interchange (5e) Presentation Plus 1 (Mac OS)
Interchange (5e) Presentation Plus 2 (Mac OS)
Interchange (5e) Presentation Plus 3 (Mac OS)