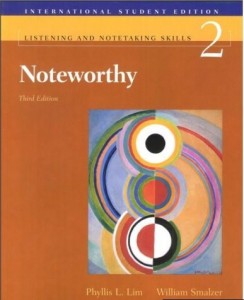 Noteworthy is the second volume in Listening and Notetaking series of THOMSON.
This book develops students listening and notetaking skills, provides insights into U.S. life and culture, and builds cross-disciplinary vocabulary.
Lectures and readings on topics of universal interest provide stimulating content-based material for developing comprehension, notetaking, and academic study skills.
Compelling cross-curricular lectures for stimulating, up-to-date content.
Pre- and post-listening activities.
Spiraled vocabulary, structures, and rhetorical patterns.
Content-based units and lectures.
Guided notetaking practice
This book includes 5 units:The face of the people, The American Character, American trademarks, Education, The official Side.
Appendix A: Audioscripts.
Appendix B: Answer Keys
Audio: 128kbps, 44,1KHz, 2 channels, WMA
5 CDs with CD1 ( unit1- chapters 1,2,3), CD2 ( unit 2- chapters 4,5,6), CD3 ( unit 3- chapters 7,8,9), CD4 ( unit 4- chapters 10,11,12), CD5 ( unit 5- chapters 13,14,15).
Video: 1601 kbps, 720*540 (4:3), 29,97 fps, MPEG-4 (avi)
This video includes 2 parts 15 chapters accompanied with student book.
Video scripts are in student book, pages 170-238
Total running time 158 minutes.
[su_table]
| | |
| --- | --- |
| Book: | [su_button url="http://adf.ly/1A6XCR"]Drive[/su_button] |
| CD: | [su_button url="http://adf.ly/1A6XGa"]CD1[/su_button] [su_button url="http://adf.ly/1A6XJr"]CD2[/su_button] [su_button url="http://adf.ly/1A6XMN"]CD3[/su_button] [su_button url="http://adf.ly/1A6XQ5″]CD4[/su_button] [su_button url="http://adf.ly/1A6XT1″]CD5[/su_button] |
| Video: | Updating…. |
[/su_table]